Blog
Where to Get the Princess Theme Clothing, Hairdo, Makeup for Little Princess's Birthday Party?
---
September 14, 2015
Happy Birthday,Occasions
---
---
Dressing up as a princess is every little girl's dream and dressing up as a pretty princess in one's birthday has become a popular way to fulfill such dream. So if you are planning to have a princess themed birthday party for your little one but does not know where to get princess theme clothing, make up and hairdo? Fret not, here is a list of birthday party suppliers who provide princess make up, hairdo services and beautiful princess themed clothes. Some of these shops also provide photography services to keep your little one's memories sweet and alive.
Singapore Princess Theme Dress Stores
Children's Costume Specialist
Children's Costume Specialist is a shop in Paya Lebar that specialize in budgeted children's costume. They have popular Disney princess dress up costumes such as the Aurora Sleeping Beauty Princess costume, Princess Tangled Costume, Princess Belle Golden Costume and Primrose Fairy dress. Not only does this shop sell costumes, they also sell accessories such as the Elsa wig and small flower hairband. As they are wholesaler, they could give a better pricing than other shops.
Tel: 6288 0075
Website: http://www.childrenscostume.com.sg/
Operating Hours: Tuesday – Saturday 12pm – 7pm
Costumes 'n' Parties
Costumes 'n' Parties has a physical shop in Kampong Bahru and they provide rental services for their costumes. In addition, they provide stage makeup, special effects makeup and costume masks. You can find most of the favorite classic Disneyland princess costumes such as the Princess Merida, Snow White, Cinderella, Sleeping Beauty, Mermaid, Ariel Storybook Princess dress and Princess Juliet here.
Your girl will be delighted at the chance to try out their various favorite princess dresses. At Costume's 'n' Parties, princess dresses are not only limited to young girls but adults have wide range selection to choose from too so mother and daughter can have a happy time finding the ideal princess dress together.
Tel: 6224 8742
Singapore Online Stores for Princess Theme Dress
Unlike the above physical stores which provide dramatic and elaborate princess costumes, the local online stores below provide princess theme dress that are modern, stylish and fashionable which is an ideal outfit not only for birthday parties but other occasions as well. The fabric materials are usually light and comfortable so young ladies should have no problem wearing them all day.
Little Princess Wardrobe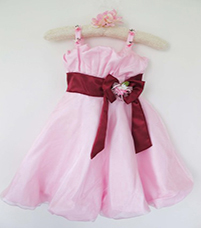 Little Princess Wardrobe is an online clothing boutique that has gorgeous cute princess dresses for birthdays, flower girl dresses for wedding, and pretty summer dresses for sunny day. The dresses here are suitable for infants, toddlers and young girls. One of the popular dresses is shown in the picture on the left, it has beautiful bubble gowns with a large bow and flower centerpiece on a sash at the waist. It is available in various colors such as buttercup yellow, pink and maroon. This princess-liked dress fits well not only on birthday but you can also dress your girl as a princess everyday with their "The Everyday Princess" Collection which is a simplified version of princess inspired dress.
Email: littleprincesswardrobe@yahoo.com
Website:  http://www.littleprincesswardrobe.com/
iBUYLA.com
[Product no longer available]
iBUYLA is a Singapore online buying agent and make purchase on your behalf for unique products.  You can find a wide range of princess dresses on its website and one of the brand they carried is Qirafa that sells simple, elegant princess and flower girl dresses.
The elegant pink summer princess dress in the picture has a flower on a sash at the waistband and flower cutout patterns at the hem is one of the many princess dresses sold here. It is one of the favorites loved by many young girls.
Website:  http://www.ibuyla.com/ 
Willow & Sage
[Product no longer available]
The mission of Willow & Sage is to provide chemical free products to babies and kids but they also have an online store that has a good collection of color-striking, cheerful princess and fairy dresses. Some of them include Trixy Lily Beauty Princess Dress, Trixy Lily Elegant Romantic Dress and Trixy Lily Flower Girl Fairy Dress.
They are light and not cumbersome like other princess dresses so they are suitable for birthday girls who are active and playful. Other than the princess dresses, matching accessories such as the fairy pearl tiara and the pearl fairy wand are also found here.
Email: info@willowandsage.com.sg
Website:  http://www.willowandsage.com.sg
Operating Hours: Mondays – Fridays 11am – 4pm
Other Overseas Online Shops
ThePrincessDress.com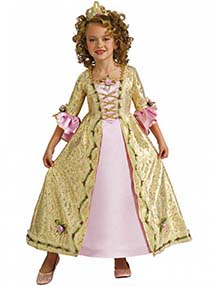 At ThePrincessDress.com, you are spoilt with choices to find Disney princess costumes as well as formal princess dresses under one roof. The owners of this online shop couldn't find enough choice of princess dresses for their daughter so they set up the shop to contain full line of princess dresses. In fact, you can find almost everything related to dress up as a pretty princess here – dresses, crowns, jewelry, slippers and other accessories. They have all sizes and colors for their princess dresses and even adult sizes on some of their items so why not you and your little girl dress up together as a princess, it will be a great fun together!
Website: http://theprincessdress.com/
Facebook:  https://www.facebook.com/ThePrincessDresscom
Everything-Princesses.com
The name of the website already tell you that everything about dolling up as a princess can be found here. Besides the popular princess dresses, they also cover items like furniture, wardrobe, room décor, books, bags, stationery and even silverware are in princess designs. Yes, everything is very "Princessey" but the whole idea is to give your little girl an experience in a royal palace setting where she could enjoy being a real princess not only on her birthday but other days as well.
Website: http://www.everything-princesses.com/
Amazon.com
Amazon.com is an online based store who sell almost everything including children's party costumes suitable for toddlers aged 3-5 and children aged 6-10. They have different sizes and height for princess themed dresses such as the Elsa princess dress and the Rapunzel dress. Some of these dresses come with accessories such as a matching tiara and detailed character cameo which allow your girl to enjoy the role play and fun of being a princess.
Website:  https://www.amazon.com
Hairdo & Makeup Services
No princess themed dress is complete without the a complementing hairdo and proper makeup especially during the princess's birthday. However, if you are not skill at doing this, it's better to leave it to the professionals. Below is a list of hair styling and makeup professionals who can give your little girl that finishing touch to complete the princess look.
Curly & Spike
Curly & Spike is a hair salon that caters to kids who provide haircuts and make over sessions for birthday parties. In addition, they provide manicure, pedicure, spa and party make-up services. They have a special fashion party designed for kids aged 4 to 16, your little one and their guests can get a full makeover done by their resident super stylists. Their themed makeover party also includes stylish fun and creative craft session plus a fashion parade with photography for your little and their guest to show off their new look.
Tel: 67339298
Email: info@curlynspikestore.com.sg
deCharacter Image Styling Team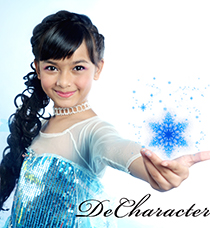 deCharacter is a makeover studio who can provide princess makeup, hairstyling  and photography services for your girl's birthday. If you do not want to spend a lot on party outfit with matching accessories, deCharacter also provides rental services.
Tel: 6334 9476
Email: info@decharacter.com
Website:  http://www.decharacter.com/
Glamour Kiddies
Glamour Kiddies is a hair salon who could provide hair trim, hair cut and hair styling for your princess on her birthday. In fact, they could provide a one-stop services from dressing the birthday girl to photoshoot on her special day. If dressing up and makeup are not your forte, you may want to leave the works to Glamour Kiddies and see how your sweetie transforms into a pretty princess.
Tel: 6837 2534 
Email: general@glamourkiddies.com
Website:  https://www.facebook.com/Glamour-Kiddies/
Operating Hours: Monday – Thursday 11am – 8pm & Friday – Sunday 10pm – 7pm
#####
To find the ideal birthday princess themed dress is not easy but the above online and offline stores should give you some good ideas where and what to get for your birthday girl. If your budget allows, you might like to approach the image styling team for hair styling and makeup advices which could save you great amount of times and efforts. Your girl will definitely be pleased that you have helped her to fulfill her princess dream.