Blog
Princess Dress Singapore: Get Ready for Party
---
November 28, 2016
Happy Birthday,Occasions
---
---
It's almost year end and with all the festive celebration and holidays coming, it's time to get your little princess at home prepare, especially when your princess's birthday falls at the end of the year. If you are thinking where to buy a party dress in Singapore? Or a cheap princess dresses for kids, check out the list of princess dress for kids below. All of the party dresses can be purchased online and deliver to you personally.
If you are looking for a nice party dresses or unique birthday gift, check out the list of princess dress below.
Princess Party Dress for Baby Girl (0-12 months)
#1. Baby Princess Pink Tutu Lace Dress
A striking pink sleeveless baby princess dress is suitable for your little princess for her first birthday party. Besides the adorable pink colour, other colours such as white, ivory and purple are also available for selection. This cute little princess dress is available in 4 sizes: 1T=S, 2T=M, 3T=L, 4T=XL. Don't forget to get a pair of sparkly silver shoes with light pink bow, it adds more sparkles to her sweet little pink dress.
Buy Baby Princess Pink Tutu Lace Dress here.
Buy Baby Silver Shoes with Pink Bow here.
#2. Little Pink Polka Baby Princess Party Dress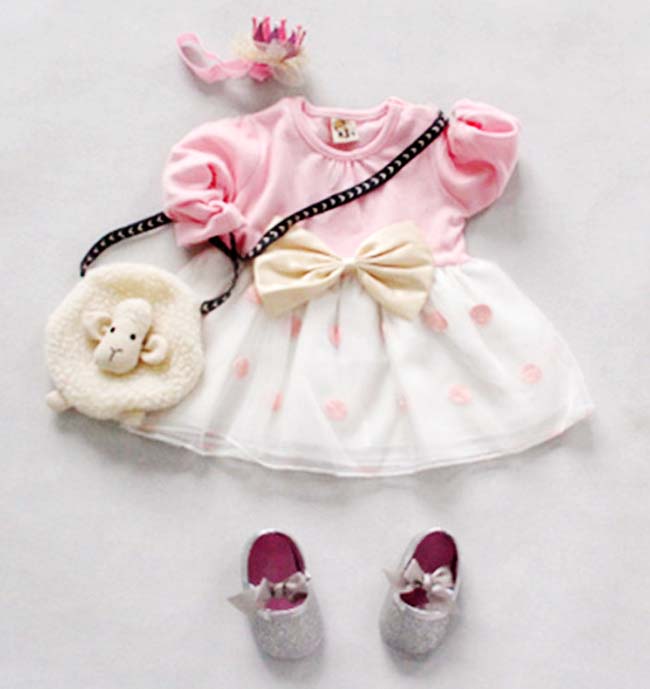 This cute little one piece pinky long-sleeve top with white polka dress is suitable for baby who is 3 to 24 months. It is one of the simple party dresses you can add to your little princess wardrobe as she can wear it for any occasions. The dress is 100% cotton so making it light and comfortable for her and the long sleeve will keep her warm in a cold room. You can also add a legging or pants for her if she is an active child who love to run around in the party.
Buy Pink Polka Baby Princess Party Dress here.
Princess Party Dress for Toddlers (1-3 years old)
#1. Champagne Coloured Tutu Princess Dress
This beautiful tutu ruffled layered princess dress is available for baby girls from 0 -12 months old. It has four colours to choose from – champagne, blue, white and pink. You can pick your princess favourite colour and match it with a sparkling Tiara. If your princess is active, get her a pair of beautifully design soft-soled white sandals so she can walk around freely in the birthday party. Besides white colour, the sandals are also available in lovely pink and baby blue colour.
Buy Flower Gown Princess Dress here.
Buy Princess Tiara Silver here.
Buy Princess White & Pink Bow Sandals here.
#2. Princess Formal Party Dress with Bow
Another lovely little girl's tutu party dresses for your little princess on the special day. This tutu ruffled layered dress has a pom pom embellishments on its top, making it unique and fashionable. Match with a shining silver tiara and a pair of pink glittery shoes, your girl is ready to sparkle in any birthday or holiday parties.
Buy Girl Princess Formal Party Dress here.
Buy Pink Princess Low-Heeled Girls Shoes here.
#3. Princess Elsa Dress for Toddler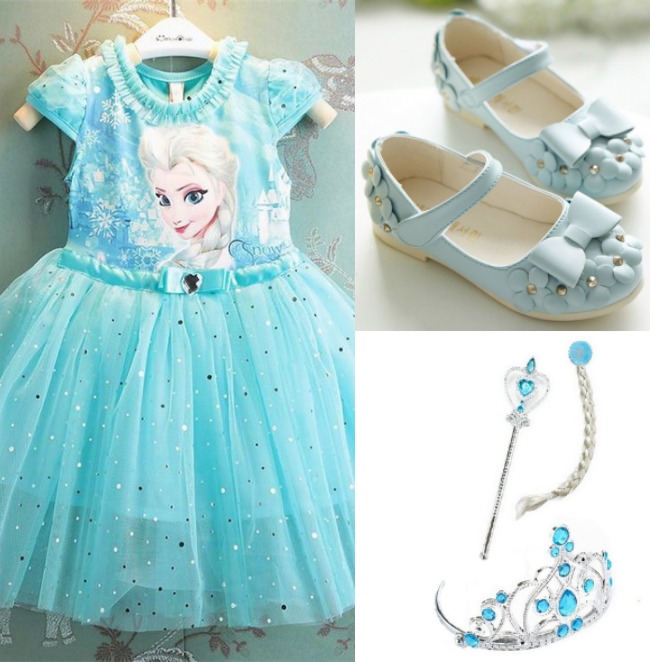 This one piece of Princess Elsa inspired baby-blue dress is for toddler who prefer something easy to wear and durable. The picture of Princess Elsa is printed on the front of the top so your girl can identify it immediately. To get a complete Princess Elsa's look, choose a matching blue colour shoes with the magic wand, Princess Tiara and the Princess Elsa's braid. This beautiful princess dress is light and the shoes are comfortable enough for her to run around the party freely without the constraints like other bulky princess outfits.
Buy Princess Elsa Dress for Toddler here.
Buy Princess Elsa's Braid, Magic Wand & Tiara here.
#4. Ivory Princess Party Tulle Dress
A stunning and elegant ivory yellow coloured princess party tulle dress is perfect for any formal birthday party and other formal occasions. This princess dress comes with a silver Tiara with a purple crystal which is a perfect match to make your girl looks like a gorgeous royal princess. To finish the look, don't forget to get a pair of sliver glistering shoes for her.
Buy White Girl Princess Party Dress here.
Buy Princess   Silver Coloured Shoes
Princess Themed Birthday Outfits for Girl
#1. Frozen Elsa Dress
This is a glamorous long-sleeve blue Princess Elsa gown with a cape for your girl's birthday party. It can be one of the best birthday gifts as she can do a princess dress up and be like a Frozen's Princess Elsa for the entire party. Role play is said to be good for child's creativity so give your girl a chance to be a princess on her special day. If you want to complete the look of Princess Elsa, you can purchase a pair of Princess Elsa's shoes and Tiara for your darling too.
Buy Frozen Princess Elsa Dress here.
Buy Frozen Princess Elsa Shoes (Tiara included) here.
#2. Princess Sofia Party Gown
Another beloved Disney princess purple party dress for the young ladies. If your girl is the fans of Disney Princess Sofia, she will definitely like this purple Princess Sofia gown. It is good for girl who is 3 years old and above. No princess will be completed without a jewel crown so get her a Princess Sofia jewel crown with a pair of matching purplish shoes. The jewel crown and shoes have a cute Princess Sofia picture attached on them so you can imagine how excited your little princess will be when she receives it.
Buy Princess Sofia Dress here.
Buy Princess Sofia Tiara here.
Buy Princess Sofia Shoes here.
#####
There are a lot of options for princess birthday party dresses online, you should be spoilt for choice for what to choose for your little princess and least worry where to . Many might go with the aesthetics and design aspect when choosing the best princess party dress but what is important is the comfort level when your girl is wearing it. Ultimately, you want your princess to enjoy her party rather than struggling with her dress.