Blog
10 Best Birthday Gift Ideas that You Probably Overlook
---
August 1, 2016
Happy Birthday,Occasions
---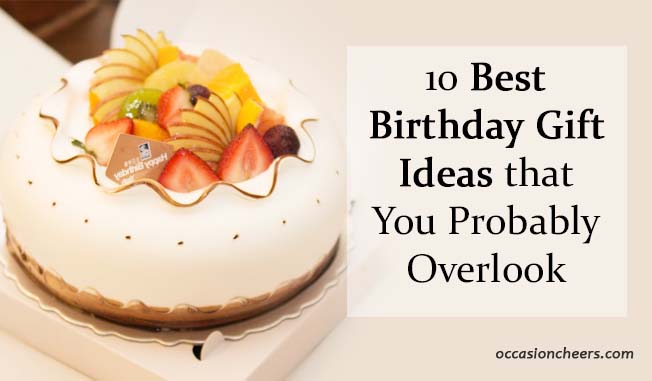 ---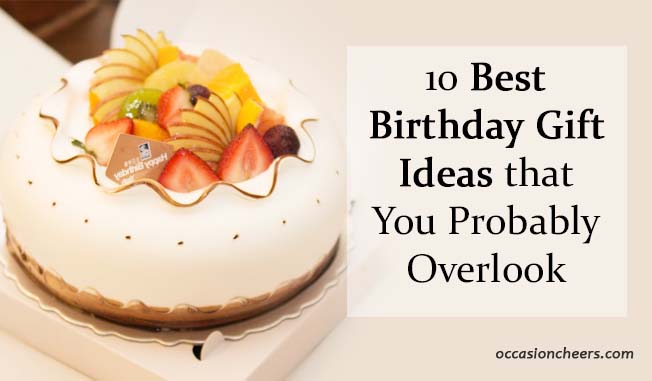 Looking for some best birthday gift ideas for your loved ones or best friends? May be your best birthday gift ideas revolved around on some great and beautiful physical products or you are cracking your head now on what to get and where to buy the best birthday gift? Or worrying that the best birthday gift will burn your pocket. In fact, if you think again, there are other more special birthday gifts you can give but probably overlook, check out the following list of good birthday present ideas below; you might have known them but missed them.
#1. Home-cooked Birthday Meal
Cooking a birthday meal will be one of the best birthday gifts ideas as it really takes time and love to prepare a good meal. It also make a memorable birthday gift as the family members can gather together and enjoy a special meal on this special day. It's good time for bonding and catching up if the family members hardly see each other. Who can ever resist a home-cooked food especially food that bring fond memories so delight the birthday boy or girl by cooking his or her favourite dish. This is one of the most special and personalized birthday gifts one can ever receive.
#2. Prepare a Traditional Birthday Food
In some countries, one has to eat special birthday food on his or her birthday. For example, the Chinese will have two red hard-boiled eggs and a bowl of Longevity Noodle (长寿面) with L-shaped chicken drumstick while some Chinese families have Mee Sua Noodle (面线) instead. In Korea, the birthday celebrant will have a bowl of seaweed soup (Miyeok Guk) early in the morning on their birthday while the Japanese has red bean rice (赤飯) called Sekihan taken on their special day.
All these food have significant meanings which mostly signify good luck, blessing and long life. Hence if you are still thinking of getting the best birthday gift, why not prepare some traditional birthday food for the birthday person? Such traditional birthday food might help to revive some fond memories from childhood and bring back good feeling. If the birthday boy or girl has never tried it before, it's a good experience for them too.
#3. DIY Birthday Cake
If you are a good baker, why not bake a delicious home-made birthday cake for your loved one's special day. It can be another great birthday present ideas as you will know the birthday boy or girl personal preferences or dietary restriction. You can customize a cake which other commercial bakeries are not able to do it. The cake is definitely safe and not causing any allergic problem. It'll be the truly one and unique cake in this world that the birthday boy or girl should be proud of.
#4. Birthday Celebration at Restaurants
If you are not a good cook then bring the birthday celebrant out for meal at a nice restaurant. This makes a perfect birthday gift ideas as you can shower all the attention and times to him or her without worry about the mess of serving and cleaning up. Choose a restaurant that the birthday person wanted to go but didn't have a chance or some exotic cuisines he or she never try before. Help him or her to fulfill their birthday wishes by inviting those who are dear to them and make it an unforgettable birthday celebration.
#5. Organize a Surprise Birthday Party
Who doesn't love surprise? Especially surprise birthday party, it could be at home, in the office or restaurant. Gather your family members, co-workers or friends; bring a birthday cake and launch an unexpected birthday and sing a birthday song. Yeah! It's such an oldies but always a goodies! It works every times, just look at the birthday boy's or girl's expression, you know it worth every efforts.
#6. Do a Good Clause
Birthday should not be only receiving but giving as well. If you want the birthday boy or girl especially children to understand the value of giving and caring, teach them to donate their birthday presents to charity or someone who is less fortunate. If the birthday person is an adult, you can donate money to charity of his or her choices especially something he or she strongly believes in.
Alternatively, you can accompany the person to do community or volunteering work together if he or she has a big heart who care for his or her environment and animals. This could be one of the best birthday gifts when the birthday person has almost everything in this world. Giving back to society is another way of sharing one's birthday joy and blessing.
#7. Make Birthday Celebrant's Mum Happy too
Another good birthday gift ideas to make the birthday celebrant happy is to make his or her mum happy especially if she is your mother-in-law. Because she risks her life to deliver your spouse and bring him or her up as what he or she is today so the greatest contributor will be your mother-in-law so don't forget to share the birthday celebration and happiness with the mother-in-law as well. It's her special day too! Your spouse will definitely move by your sweet thoughtful gesture.
#8. Make Birthday Wish Comes True
If the birthday boy or girl is your own family members, spouse or best friend, you should roughly know some of their unfulfilled dreams and wishes. Find out from them a few months before their birthday so you can plan and prepare early. It need not have to be a big effort but something within your ability, such as the simple activities as follow:
Accompany the birthday celebrant to a movie or theatre that he or she always wanted to watch.
Finding the birthday celebrant's long lost friend or reconnect with a lost touch family member.
Buy him or her the favourite food and enjoy together.
Help him or her to fulfill his or her childhood dream such getting the toy or cake when he or she always wanted but never has a chance.
Visit a place he or she wanted to go but never has an opportunity.
Travel all the way to birthday celebrant's home to give him or her a surprise visit on his or her birthday.
#9. Do Things that Birthday Boy/Girl Never Done before
Sometimes a person need an extra push to do something drastically different from what he or she is doing every day. Therefore, on a special day like a birthday, you can encourage the birthday boy or girl to try something new for an unusual celebration.
Sign up a cooking or baking class for the birthday person who has never try cooking or baking before.
Learn a new sport such as yoga or swimming.
Have a new hair cut or go for a spa on the birthday to get a new you. It was said that the birthday itself is a new start so it's a good time to refresh and get a new look on the special day.
It's a good time to drop a bad habit and start a good habit for example exercising regularly and stop eating junk food.
Buy the birthday boy or girl a birthday T-shirt and sing a birthday song to him or her in the public places.
Send the birthday celebrant a birthday wish text or video message at 12am sharp. The first one to wish him or her a "Happy Birthday" will make you a memorable and special person.
Encourage the birthday person to take up a challenge such as running a marathon every birthday.
#10. You are the Best Birthday Gift
Last but not least, the best birthday gift could be you! Yes, you are the precious one to your parents, siblings, spouse, friends and colleagues so you need to keep yourself fit, healthy and happy. Only when you are fit, healthy and happy, they will feel the same way too as nobody will like to see their loved ones in sorry states. So remember to stay healthy, happy and make yourself available on that day to spend a good time together with the birthday celebrant. Sometimes what they want is just your presence and attention, not an expensive gift.
#####
In today's world of abundance, when one has almost everything, a non-tangible birthday gift may become a more favourable option. It is especially so when people are extremely busy and engrossed with their own life that they have little time and attention for others. Many have the misconception that buying a physical gift is the best and fastest way of wishing a person "Happy Birthday". Doing so may make the givers feel less guilty but usually the best birthday present is the thoughtfulness, time and efforts taken to prepare the birthday surprises and celebration. These are usually more appreciated by the birthday celebrant so if you are still thinking of getting the best birthday gift, consider the above birthday gift ideas. They may not always be the best but it should work well at the right time in the right place. Have fun!