Blog
Christmas Dinner 2016: Roast Turkey Delivery in Singapore
---
November 14, 2016
Christmas,Occasions
---
---
It's a good time to start planning for your Christmas 2016 dinner now! One of the quintessential items in your Christmas menu will be the Roast Turkey. Finding a fresh Turkey may be a problem in Singapore but finding the best Roast Turkey will be easier as hotels, cafés, restaurants and butchery will be offering them during the festive period. However, most of them require advanced ordering so order them early so you can get the Turkey to be delivered promptly to your house on Christmas day.
We have compiled a list of suppliers below who provide turkeys from different sources with different stuffing and sauces. They are, however, not in particular order. Here is a guideline about choosing the right size of turkey from the suppliers:
3.4 kg to 4.5 kg serves 4-6 people
5.5 kg to 6.3 kg serves 6-8 people
8.2 kg to 9.1 kg serves 10-12 people
The turkeys found in Singapore are either pre-roast or uncooked so you need to take this into consideration before you purchase it. For your convenience, we have categorized the list into cooked roast turkey and raw turkey.
Cooked Roast Turkey in Singapore
The turkeys are pre-roasted, chilled and vacuum packed for food safety reason. The hotels, restaurants and caterers in Singapore have done all the time-consuming jobs for you so saving you from the laborious task and spend more time enjoying with your family during the Christmas. To get a nice and warm turkey for your Christmas dinner, you just need to reheat it up before consumption.
Salted Egg Yolk Roast Turkey
If you are looking for some exotic favour for the Christmas Turkey this year, you will not be disappointed. Hotel Fort Canning catches up with the latest food trend craze by introducing their first Salted Egg Yolk Roast Turkey. If you need more kick, they have the Fiery Tom Yum Turkey and Peri-Peri Portuguese Turkey. Both flavours are equally spicy and tantalising so let them excite your tongue and guests. With such an exotic flavours, your Christmas dinner is going to be special this year!
Shop: The Salon at Hotel Fort Canning
Price: $138-$148++
Date Available: Now
Tel: 6799 8809
Email: fnb@hfcsingapore.com
How to Order:  Call or email them now to place your order.
Facebook: https://www.facebook.com/HFCSingapore/
Delivery Fee: No delivery, self-collection only.
Peranakan Roast U.S. Turkey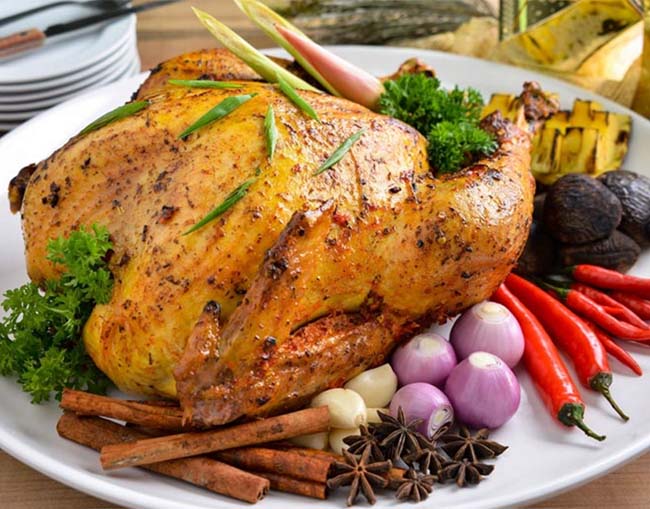 Those of you who love Peranakan dishes, you may want to try the "Peranakan Roast U.S. Turkey" from Eatzi Gourmet Catering. It weighs about 5kg and is filled with buah keluak polenta raisin stuffing. However, if Peranakan Turkey is not your cup of tea, you can still choose their "Traditional Roast U.S. Turkey". It comes with chestnut stuffing with cranberry sauce and brown sauce. You can add on a log cake and make it a set at $138.80.
Shop: Eatzi Gourmet Catering
Price: $108.80 (for 5kg Turkey)
Date Available: 9th Nov 2016 to 3rd Jan 2017
Tel:  6858 0111
Collection: From Jack's Place Outlets
How to Order:  Order from http://eatzi.com.sg/catering/festive2016.php
Deliver Fee: $45++
Halal Turkey by Belly Good
Belly Good catering is under the management of Tung Lok so you can expect some good standard from them. Their "Traditional Roast Turkey with Stuffing and Cranberry Sauce" is about 5kg which can serve five to eight persons. If you want more than a turkey, Belly Good also offer various Christmas packages so you add X'mas Cold Cut Platter, Salad, Vegetables Medley Ratatouille, Butter Rice, Dessert and drinks to complete your Christmas dinner.
Shop: Bellly Good by Tung Lok
Price: $394
Date Available: 16st Dec 2016 to 26 Dec 2016
Tel: 6694 1717
Collection: –
How to Order:  Order from http://www.bellygood.com.sg/xmas2016.php
Delivery Fee: $53.50
Swensen's Traditional Turkey
If you are fan of Swensen's, you will like their Christmas turkey. Unlike other traditional roast turkeys, theirs is marinated with special herbs and stuffed with chestnut with cranberry jelly. You just need to reheat the turkey and you can have hot and juicy turkey roast for the dinner. Apart from the Christmas turkeys, they also offer other Christmas menu items such as smoked honey chicken ham, roast beef, salads and pastas. And don't forget the Swensen's popular Ice Cream Log Cake, you can order it individually or as a package.
Shop: Swensen's
Price: $108.90 (price before GST)
Tel: 6788 8128
Email: swensens@abr.com.sg
How to Order: Order online at http://www.swensens.com.sg/christmas-catalogue-2016 or walk in to any Swensen's or Earie Swensen's outlets
Collection: Collection starts from 1st – 25th December and only after 2pm.
Self collection is available at selected outlets including Ang Mo Kio Hub, Junction 8, Jurong Point, Seletar Mall, Sun Plaza, Changi Airport T2 & West Mall.
Delivery Fee: $29 (Free delivery for orders above $350. Time slot from 9am -12pm and 2pm – 5pm)
Roast Rosemary Turkey
Rocky Master is a café who provide delectable food and heavenly coffee; they are now extending their services to festive catering, bringing good food to more people. This year, they prepare "Roasted Whole Turkey with Chestnut and Mushroom stuffing". The 4-5kg turkey is good enough to serve 5-8 persons. You can complete the Christmas meal by adding a crunch Chocolate Log Cake at $138 per set.
Shop: Rocky Master
Price: $108
Date Available: 1st Dec 2016 to 19 Dec 2016
Collection: Self-collection from the following outlets:
Mondays to Fridays (9am to 6pm)
1. Alexandra Technopark
2. Neuros Building
3. Mapletree Anson
4. Starhub Green
5. Tampines Grande
Mondays to Sundays (9am to 9pm)
1. Jun Xin Building
2. Delfi Orchard
How to Order:  Order from https://www.foodline.sg/cakes/shops/Rocky-Master/8719-Festive-Takeaway-Menu/AlaCarteOrderP
Delivery Fee: $50 (minimum order of $200 is required for delivery)
Turducken Turkey
Do you want to try something special besides traditional Christmas Turkey? How about a Turducken? What is a Turducken? You may ask. It is a Turkey stuffed with boneless chicken and duck with Madeira sauce. You will have three glorious birds together at one meal. How wonderful? Its weight about 4.5 to 5 kg and will be nicely roasted and delivered to your doorstep at Christmas if you pre-order 5 days in advance. Imagine the surprises on your guests' faces when you start carving the Turkey. It should be entertaining and fun for a Christmas meal.
Shop: Marriott Café
Price: $258
Date Available: Now to 22nd Dec 2016
Tel:  6831 4708
Collection: Marriott Hotel, Christmas Forecourt Stall (by the hotel entrance)
Collection starts from 25th Nov 2016 to 25 Dec 2016
How to Order:  Order from http://www.singaporemarriott.com/restaurant/marriott-cafe/
Delivery Fee: $70+ (for one location and free delivery for order above $600. Time slot is 9am to 1pm & 2pm to 6pm)
Cooked & Chilled Roast Turkey in Singapore (reheating is required)
Tasty Tradition Turkey (Halal)
Every year, FairPrice will have delicious Christmas Deli including roast turkey, turkey ham and other Christmas festive platter. This year, FairPrice still has the all-time favourite – "Traditional Roast Turkey – $49.50" and "Rosemary Turkey Supreme – $55.80", not forgetting the Halal version, "Tasty Tradition Turkey $54.90" for your selection. Each turkey comes with chestnut stuffing and cranberry sauce. They even offer free bottle of wine for orders above $150 before 14 Dec 2016. This offers is limited to 1000 customers only.
Shop: FairPrice
Price: $49.50 – $55.80
Date Available: Now
Tel:  6844 4550 Mon – Fri: 9am – 6pm (except PH)
How to Order:  Order from http://www.fairprice.com.sg/
Delivery Fee: $7.49 (for order below $60) & 10.70 (for order above $60)
Burgers' Smokehouse Herb Roasted Turkey
This 3.6-4.5kg turkey is enough to serve four to six persons. If you have more guests coming, you can order their "Lavish Christmas Feast" which include other items such as Primo Banjo Bone-in Ham, Ribeye Roast Beef with Black Pepper Sauce. This could serve up to 8-10 persons, ideal for family gathering or small Christmas celebration.
Shop: Cold Storage
Price: $59.95
Tel: 6344 1661 (Mon – Sat, 8.30am – 5.30pm)
How to Order: https://coldstorage.com.sg/site/christmas2016
Delivery Fee: $12 (for order below $60) & $7 (for order above $60)
Raw & Frozen Turkeys for Christmas in Singapore
Unfortunately you can't find fresh turkey in Singapore, the next best is frozen turkey found in butchery, Cold Storage, Giant and other online grocery shops. However, if you know the best way to roast a turkey, you still can make them taste as good as fresh ones. Check out the list of shops below where you can purchase frozen turkeys for your Christmas menu.
Mmmm Christmas Turkey
If you are thinking of roasting the Turkey yourself, you can order from Mmmm! They are one of the few online butchery who offer wide range of premium meats for selection. Their Christmas Turkey is already cooked but need reheating before consuming. It comes with brown sauce or cranberry sauce. If you purchase $150 and above, you will receive two complimentary Lobster Bisque which could serve up to 5-8 person.
Shop: Mmmm!
Price: $80 (3 days in advance is required for order)
Date Available: Now to 22 Dec 2016
Tel:
64738292 for Anchorpoint Branch
66049015 for Changi City Point Branch
6397 6818 for Square 2
6778 1858 for West Coast Plaza Branch
Collection: Orders must be made 3 days in advance and it can be delivered or self-collected from the outlet you order. Orders made after 18th Dec 2016 will have to be self collected at outlets.
How to Order:  Order from http://mmmm.com.sg/index.php
Delivery Fee: $22 (Three time slots available: 10am-12pm, 3pm-5pm, 7pm-8.30pm)
Large Whole Frozen Turkey
The frozen turkeys from Kenny Grocery online store are from USA. They have different sizes and weight, ranging from the smallest size of about 4.5kg to as big as 10kg. So if you are planning a Christmas Turkey Dinner, think of the number of guests you going to invite then you will know the right size to choose.
Shop: Kenny Grocery
Price: $48-$85 (depend on the size and weight)
Date Available: Now
Tel:  6219 7927
How to Order:  Order from http://www.kennygroceryonline.com/
Delivery Fee: $7 (Free for orders above $80)
Butterball Frozen Turkey (Non-Halal)
Giant has only two sizes of frozen turkey, you can order from their online stores and get it deliver to you at additional fee of $12. They have same day delivery so go to their website and check out their deliver time slot.
Shop: Giant Online Store
Price: $49-$65 (depend on the size and weight)
Tel:   1800-891-8100

How to Order:  Order from https://giantonline.com.sg

Delivery Fee:  $12 (for order below $60) & $7 (for order above $60)
#####
After going through the above list of roasted turkey and frozen turkey, you should be able to find the best Christmas turkey for your Christmas lunch or dinner. Many of them provide Christmas turkey delivery service so you can focus on bonding with your family and guests than slogging in the kitchen.
Enjoy your Christmas dinner and have a Merry Christmas 2016!