Blog
Chinese Mid Autumn Festival 2017: Low Sugar Mooncake Singapore
---
September 18, 2017
Mid-Autumn Festival,Occasions
---
---
In less than a month, the Mid-Autumn Festival is here and yes, it is another great time to shop and feast on that delicious and yummy Chinese moon cake. But before you happily immerse yourself in a spree for mooncakes shopping, here is some true fact that you should know first – one mooncake can contain a whopping 1000 calories as it is loaded with high sugar, salt and fat. On average, a man need 2500 calories and a woman need only 2000 calories per day so a piece of mooncake could easily take up half your daily quota. Over consumption of mooncake could lead to many health problems such as diabetes, hypertension and coronary heart disease. The diabetes has even become such a "health crisis" issue for Singaporean that our Prime Minister has to step in to urge all of the citizens to eat healthily during his National Day's rally last month.
While it is wise to watch your sugar levels, there is no reason to stop indulging mooncake during the festive period as you can always choose those mooncakes with less sugar or sugar free. Hence, this year, we have compiled some low sugar and reduced sugar mooncakes for your reference so that everybody can shop, celebrate happily and eat healthily at the same time.
Low Sugar Mooncake
After going through most of the popular local mooncake brands, there aren't many low sugar or no sugar mooncake option. In addition, most do not have clear product labelling for exact sugar levels used in their mooncakes so at the meantime, consumers still need to exercise caution while consuming low sugar mooncake, the key is still moderation.
Here is a list of low sugar mooncake you can go to if you want to buy them.
Low Sugar Traditional Baked Mooncake
This year's Mid Autumn festival, Lao Zi Hao (老字号) collaborates with Yu Shan Tang Singapore (玉善堂) to bring you the low sugar traditional baked mooncake for those who want to indulge without the guilt feeling. One of the popular Lao Zi Hao's mooncakes is its Low Sugar Bamboo Charcoal Mooncake with Black Sesame and Melon Seed. It is priced at $48 per box with six pieces and consists of 2 flavor each in a box.
Shop: Lao Zi Hao

Pricing: $48.00 (8 pcs per box with 2 pcs per flavor)
Tel: 6853 0440
How to Order: Check out Yu Shan Tang's Facebook for road show update
Low Sugar Red & White Lotus Paste Mooncake
Xin Cuisine Chinese restaurant offers two low sugar mooncake this year. One is Low Sugar Red Lotus Seed Paste with Peanut Praline (低糖红莲蓉花生巧克力月饼) and another one is Low Sugar White Lotus Seed Paste with Banana Apricot Praline (低糖白莲蓉香蕉杏桃巧克力月饼). Besides these two options, you may want to check out their another low sugar classic mooncakes such as Low Sugar White Lotus Seed Paste with Single Yolk, Double Yolks or Four Yolks. Pair them with some hot Chinese tea will help in digestion and reduce fat accumulation.
Shop: Xin Cuisine Chinese Restaurant
Pricing: $58 (6 pcs per box)
Tel: 6731 7173
How to Order: Order online at https://holidayinnfestive.oddle.me/
Peony Jade
As a Michelin Bib Gourmand Restaurant in 2016 & 2017, Peony Jade never fail to amaze its customers with new flavor mooncake every year. This year they have the new baked Mini 'Milo Dino' Molten Mooncake and Pink Snowskin Prosperous Piggies with Silver Lotus Pates and Egg Yok Custard but unfortunately, they do not belong to the low sugar category. For healthier and less sugar option, you can choose from their "Peony Jade Traditional Finesse" category. One of the popular low sugar mooncakes is the Baked Mooncake with Premium 'Jin Hua' Ham with Assorted Nuts and Tangerine Peels.
Shop: Peony Jade
Pricing: Range from $37-$43
How to Order: Order online at https://peonyjade.oddle.me/ (minimum order is $198)
Self Collection: Pick up at the Outlet you order
Sugar Free Mei Xin Mooncake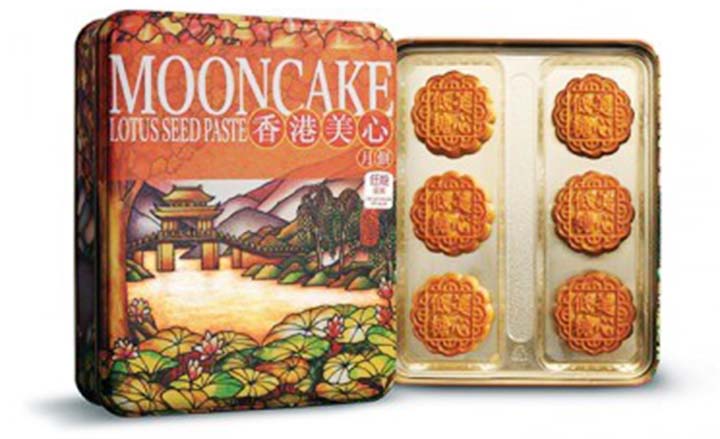 Hong Kong Mei Xin Mooncake is one of the best mooncakes selling brands in Hong Kong and Singaporean is fortunate enough to buy its mooncakes easily in Singapore without flying to Hong Kong. All thanks to the local company – Frosts. To satisfy the health-conscious customers, Mei Xin has "Reduced Sugar Mooncake with Egg Yolk Collection" priced at $59 per box. It has 3 pieces of Low Sugar White Lotus Seed Paste Mooncake with Egg Yolk and 3 pieces of Reduced Sugar Lotus Seed Paste Mooncake with Egg Yolk in a box.
Shop: Hong Kong Mei Xi
Pricing: $59 (6 pcs per box)
How to Order: Order online at http://frosts.com.sg/index.php
Self-Collection: Available at retail booths
Delivery Fee: Free delivery for order above $150
Low Sugar White Lotus Paste Mooncake
The classic traditional "White Lotus Paste Mooncake" from Hua Ting Restaurant has a lower sugar mooncake so you can enjoy its light taste without overloaded with sugar and fat. It makes a great gift for your elders and loved ones but remind them to keep their servings in check as many still believe once in a blue moon consumption of mooncake should have no serious health impact.
Shop: Hua Ting Restaurant
Pricing: $72.76 (4 pcs per box)
Tel: 6500 6112
Self-Collection: Available at hotel's Lobby Kiosk including Orchard Hotel, Grand Copthorne Waterfront Hotel, Copthorne King's, M Hotel, M Social, Studio M
How to Order: Order at https://www.millenniumhotels.com/
Delivery Fee: $50 per location (Free delivery for purchase of 100 boxes and above)
Vegetarian Mooncake
If you can't find any nice low sugar mooncake, choosing vegetarian mooncake may be a better choice. They do not contain as much fat and sugar as its non-vegan counterparts so it is a better choice for vegetarian and non-vegetarian consumers.
Charcoal Black Sesame with Yolk
The Charcoal Black Sesame with Yolk Mooncake from Yes Natural contains no preservative, artificial flavouring, colouring and trans fat. It replaces sugar with Molassess so the vegetarian mooncake is not overly loaded with too much sugar which help to reduce unwanted calories. This lightly sweet mooncake will make a great Mid-Autumn festival gift for your vegetarian friends.
Shop: Yes Natural
Pricing: $16 per piece
How to Order: Order at https://shop.yesnatural.sg/
Facebook: https://www.facebook.com/yesnaturalsingapore
#####
You can order your mooncake online and have them deliver to your doorstep but if you want to burn off some calories and stay healthy, visit their shops and talk to them. You could get good recommendation for low sugar mooncake or even sugar free mooncake. If all fail, you still can exercise moderation while consuming and do more exercise to burn it off.
Have a happy and healthy Mid-Autumn festival!
中秋节快乐!