Blog
Top 10 Mother's Day Gifts 2018: For the Burnt-out Mum
---
May 9, 2018
Mother's Day,Occasions
---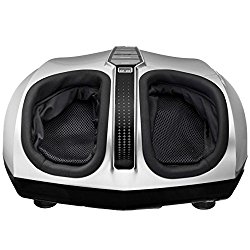 ---
What's the best gift for mother's day 2018? Mum has the worst job in the world – she is the caregiver, housekeeper, counselor, cleaner, cook, errand runner or in short, Mrs Fix-It-All for the household. Her usual routine continues even when she is sick and down. Therefore, you really need something special to reward the burnt-out mum on Mother's Day.
If you are starting to look for some great mother's day gift ideas for mother's day celebration, we have carefully picked the top 10 Mother's Day Gifts that give exhausted mum the necessary break and relax after a long tiring day. All these Mother's Day gifts aim to help mum to relax and rejuvenate; she will be definitely be happy for the thoughtful and utilitarian gift.
#1. Foot Massager

Mum has to multi-tasks everyday so her feet will be tired from long standing and walking. Getting her a foot massager is a good way to help relieve the soreness and tension of her feet. This foot massager will give mum the therapeutic massage she deserves as the heat will soothe the tired muscle and improve blood circulation. The foot massager can be controlled using the power and speed inside the foot massager so mum does not need to bend up and down just to adjust the control.
The foot massager is light and portable so it is easy to bring it along everywhere even when travelling.
#2. Cordless Neck and Shoulder Massager
Similarly, burnt-out mum easily suffer from muscle tension, neck pain and shoulder aches so a good massager will be a great relief for such pains. Buy a cordless neck and shoulder massager for mum so she can DIY herself when she needs it. The easy-to-handle cordless neck and shoulder massager is not limited to the neck and shoulder only but for the whole body including the scalp. It has many attachments that can be changed to various sizes; this makes it versatile to cater for the different parts and size of the body pains.
#3. Vibration Massage Seat Cushion
A portable vibration massager is a great Mother's Day gift for busy mum who need to be seated for long period such as driving on long trips or working in high stress office. This portable vibration massager can be easily fit on any chair and has different modes of vibration to massage mum's back to ease stiff and sore muscles. The massager is controlled by hand control unit and serves to massage neck, shoulder, upper back, middle back, lower back and thighs. It also come with heat function which help to warm up the back and improve blood circulation during the cold days.
#4. Penetrex Pain Relief Cream
Pain can kill and eventually it will make a person lose interest in daily activities so if you want to salvage your mum who are already suffering from pain, buy her the Penetrex cream for this Mother's Day. It is a popular pain relief cream to ease inflammation and a good pain reliever for mum who suffer Arthritis, Tendonitis, Joint Pain, Elbow Pain, Back Pain and Sore Muscles. Don't wait until Mother's day, if you are seeing your mum having problem walking up or down the staircase, get her a Penetrex cream and help her massage. It will be the best Mother's Day gift ever for mum!
#5. Aromatherapy Essential Oils
Aromatherapy essential oils have been used to relieve stress, muscle pain and headaches. The pack contains six therapeutic essential oils including Lavender, Tea Tree, Eucalyptus, Peppermint, Lemongrass and Sweet Orange. Each has its own therapeutic benefits for example the Lavender is said to relieve stress; Tea Tree is good for head congestion; Eucalyptus essential oil is good for treating respiratory problems; the Lemongrass oil is a quick mood enhancer and Sweet Orange helps to relax body. This will be a great Mother's Day gift to help mum to cool down and relax during her hectic days. Most important, it will help mum to sleep well at night.
#6. Aromatherapy Essential Oil Diffuser
If your mum is new to aromatherapy, she will need an aromatherapy diffuser so as to disperse the essential oils into the surrounding air. This affordable electronic aromatherapy oil diffuser is safer choice than the conventional diffuser as there will be no fire hazard. In addition, this electronic diffuser is easy to operate so your mum should not have problem using it all days.
#7. Bath Bombs Gift Set
Nothing beats a good hot bath especially after a long and hard day. Your mum will love this golf-ball size bath bombs as they are handmade and organic. They are made of natural herbs and plants such as the Lavender, Vanilla, Palma Rose, Sage, Jasmine, Ginger, Spearmint and Lemon. All these natural ingredients make the bath bombs therapeutic which help your mum to calm down and relieve from health problems such as sinuses, stiff muscle aches and headaches. Most importantly, they make your mum's skin silky and soft, she will definitely feel happy and refreshing after the bath.
#8. Dead Sea Mud Musk

Over exhaustion can cause damage to mum's skin. She may start having many skin problems such as acne, pimples, open pores, blackheads, dry or oily skin so one of the perfect Mother's Day gifts you cans buy for her is the Dead Sea Mud Musk. The dead sea mud mask is packed with beneficial vitamins and minerals that can remove blemishes and improve mum's skin elasticity. It is easy to use and clean up so mum should be delighted her skin can retain the youthful firmness and glow. To ensure mum has a regular facial mask to maintain her skin condition, you can consider doing a subscription to get the dead sea mud mask to deliver directly to her house at the end of every month.
#9. Hand Repair Gift Set for Dry Hands
Doing housework is tough as all the washing and cleaning will make mum's hand dry and rough. You need to pamper your mum with this hand cream kit to repair and soothe her dry hands. This hand cream kit consist of Almond Milk Hand Cream, Lemon Butter Cuticle Cream and Shea Butter Hand repair cream and a pair of cotton gloves. The natural ingredients such as Sweet Almond Oil and Vitamin E are good for hydration and Aloe Vera will moisturize and soften skin. The light and soft gloves are for mum to wear at night after applying the cream, this helps to protect the hands and speed up the healing process. Hence if your mum's hands are dry and cracked, get mum this wonderful Mother's day gift.
#10. Body Spa Gift Basket
If you think buying individual gift items is cumbersome then you can get a Mother's Day gift set instead. This fragrant body bath set is packed in a beautiful basket and come with shower gel, body lotion, body scrub and four bath fizzers. They make a wonderful set of spa items which mum can enjoy at home leisurely. The sweet and spicy vanilla scent will help to soothe mum's tired skin from head to toe, leaving her feeling fresh and energize after the bath. If your mum has sensitive skin, you will be happy to know that they are safe to use as they are gentle for such skin condition.
#####
Hopefully, you can find one perfect Mother's Day gift for your dearest mum from the above gift items. These soothing and thoughtful Mother's Day gifts send a strong and caring message that you care for your mum and want her to be healthy and happy all her life.
Pamper your mum on this special day and have a Happy Mother's Day 2018!