Blog
Unique Birthday Gift Ideas for People Wearing Glasses
---
September 24, 2016
Happy Birthday,Occasions
---
---
Do you find it challenging to find the best birthday gift for family members, colleagues or best friend? It may be daunting at first but if you pay more attention to what a person needs then it will help to narrow down your option. We always feel that giving a functional gift than a fashionable gift helps to reduce wastage and improve recipient's life. For example, if you have family members, co-workers or friends who are wearing glasses; they bound to have unpleasant experience wearing them. Hence, if you can buy them a birthday gift that can help to solve their pains; the gift is no longer just a birthday gift that delights but helps to improve the recipient's quality of life. He or she should feel your genuine and heartfelt concern.
Below is a list of gift items you can consider. They are not expensive but bring a lot of values and thoughts to the recipients. Most importantly, the gift conveys the right message you care for them.
Big Puppy Glasses Holder for Kids
Kids tend to misplace or scratch their eye glasses easily so this soft and cuddly 19" height big puppy glasses holder will help to wear their glasses securely. In addition, at the back of the puppy glasses holder is a storage place with padding where the child can put his or her eye glasses to prevent scratching. Give this glasses holder as a gift for your kid's birthday and train them to put their glasses on the puppy's face after use or before bed. The puppy glasses holder acts not only an eyeglasses holder but also a good best friend forever (BFF) for your child.
If your kid doesn't like puppy, there are another options such as the big T-rex glasses holder and pink Teddy glasses holder too.
Buy Big Puppy Glasses Holder here.
Hands-Free Magnifier Glass for Reading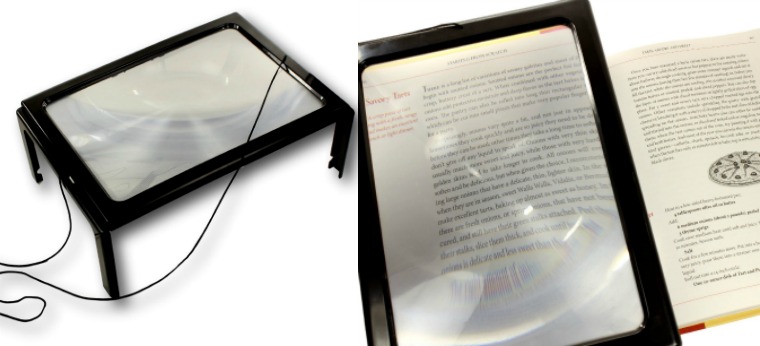 For the seniors who love reading but has problem reading the small print, using a magnifier glass is a must but it could cause fatigue to the eyes and hand when using it for too long. Therefore, if you dad or mum is having this problem, consider buying them a hands-free full page magnifier as a birthday gift. This magnifier glass can zoom up to 3x of current view and comes with LED lights so it adds clarity and brightness while viewing. In addition, it has flip out legs that can stand over the document so one can enjoy reading with hands free.
This little gift will bring new life to your parents as it removes eyes issue and they can continue pursuing their interests such as reading or doing minute crafts works. This hands-free magnifier glass also serves a good birthday gift for someone who is young but has poor vision. Your recipient will appreciate your thoughtfulness and concern.
Buy Hands-Free magnifier Glass here.
Compact ThinOPTICS Reading Glasses
Do you have elderly friends or parents who have problem reading near object? And one common problem they face is the tendency to forget to bring along their reading glass while they are out. Consequently, they always need help from others to read the small prints on the menu, shopping label or mobile phone text messages for them. Think of the frustration and inconvenience that caused them, it can greatly impact the quality of their life. So if you can give them a small birthday gift that help them to solve this annoying problem, you will become the hero in their eyes.
The little birthday gift is nothing but a small, thin and light reading glass which is stored in a universal pod that can be attached to your phone case. Alternatively, it can be slip into one's pocket, purse, wallet or make-up kit. This reading glasses is from ThinOPTICS and it is basically a pair of lens without arms, it fits nicely on one's nose and become a handy backup reading glasses if one forget to bring out their regular reading glasses. To see how it works, check out the video below.
If you know someone who need this, get it now! It will make a wonderful birthday gift for them.
Buy ThinOptics Reading Glasses here.
Sleeping Masks
Sometimes poor vision could be due to lack of sleep so if you know someone who has sleeping problem, one of a good birthday gift ideas is to give a sleeping masks. There are many different type of sleeping masks with different design, materials and functions in the market. Depends on what you need, you can get a sleeping masks with eye cavities for those who have long eye lashes and easy for eye movement while for those who are tornado sleepers who turn around a lot, you need to ensure there is a good strap to prevent the sleeping masks from fall off the face. If you are giving a sleeping masks for those who travel a lot, make sure it is soft and comfortable for the eyes. You can also add a pair of ear plug to help those who have medical problem such as migraine, headaches or those working on night shift to block out the noise.
Buy Adult Sleeping Masks here.
Black White Panda Sleeping Mask for Children

There are also other cute designed sleeping masks for children which help them to get some sleep while napping on plane or car ride. This little gift costs little but brings great value to your recipient so consider it as a gift option when you are thinking about what to buy for birthday present next time.

Buy Black White Panda Design Sleeping Masks here.
Lavender Eye Pillow to Soothe Strain Eyes
Those who wear glasses all day tend to have tired eyes and dark eyes circles easily so getting a Lavender eye pillow could be one of a great birthday gift ideas. The eye pillow is filled with flax seed and scented with Lavender for aromatherapy purpose. It can be used as a hot or cold mask to help soothe and relax the tired eyes. At the same time, it ease migraine pain and sore eyes muscle for better sleep. So if you are seeing a birthday boy or girl who is overworked and under stress especially those who work at the computer screen the whole day, get him or her a Lavender eye pillow to save their strained eyes from further eyesight deterioration. It is small and portable so it can be carried around and apply on eyes when one needs a quick relief.
A super little cool birthday gift but show your thoughts and care.
Buy the Lavender Eye Pillow here.
Eye Gel for Eye Wrinkles & Puffy Eyes
Do your four-eyed friends or family members have eye wrinkles, dark eye circles, puffy eyes and eye bags? Most people who are wearing glasses will have these problems due to prolonged straining their eyes and poor blood circulation around the eyes area. A pair of tired eyes will make a person looks old and haggard so if you are thinking of buying a birthday gift for these people, try getting some eye gel or eye cream to help them to revitalise their eyes. The eye gel will nourish the dark eye circles and reduce fine wrinkles making the skin around the eyes area look tighten and smooth.
Choose an eye gel with natural ingredients such as the eye gel from Radha Beauty; it contains cucumber, Aloe, Vitamin E and Roship oil. They are all great ingredients for moisturising and tightening the skin at eyes area.
In short, if you want to make the birthday celebrant look younger with a pair of sparkling eyes, consider getting a good eye gel.
Buy Eye Gel to Reduce Eye Wrinkles here.
Eyes Massager
Prolonged use of computer and mobile phone today tend to cause more eyes strain and eyes fatigue. Consequently, some people may develop headaches, dry eyes and eyelid twitch. A good eyes massage could help to relax the eyes and improve eyes circulation thus prevent severe eyes problems. Get a good electronic eyes massager for the birthday celebrant will be a wonderful gift as it is not only functional but stylish. The eye massager has three different massage modes, allowing you to pick one that suit you. It also comes with a built-in music player so enable one to enjoy deeper relaxation and revitalize the tense eye muscles.
The eye massager will be one of the most demanded gifts as there are more vision problems today due to frequent use of digital devices. If you are still hesitating what to get for a birthday gift, a good electronic eye massage is your answer.
Eye Vitamins & Mineral Supplement
One needs balanced diet to have a good eyesight. However, not everyone eat enough fruits and vegetables these days so eye vitamins and mineral supplement is necessary to fill the gap. Research has shown that taking eye vitamins and mineral supplement help to maintain healthy eye vision and delay age-related eye disease.
If you want your loved one to free from any eye diseases, it is better to start maintaining early. So the next time if you are thinking what to get for a birthday gift for them, try some eye vitamins.
Buy Eye Vitamins & Mineral Supplement here.
####
Does the above list of gift items give you some good ideas of what to get for the birthday boy or girl? They are not necessary expensive but very functional and bring good values. If you find the gift items look too ordinary then make them extraordinary. Package a few of the above items together as a package in a beautiful gift box or basket then wrap it with a piece of beautiful paper. Finish off with a coordinating elegant ribbon and it immediately turn into a stunning birthday gift that will wow your recipient.