Blog
Birthday Party Food to Beat the Heat in Singapore
---
July 7, 2016
Party Food
---
---
Singapore weather is getting crazy these days! In such a scorching hot and humid weather, having a birthday party at a pool or beach will be absolutely fun! Imagine dipping in the cool water and slurping an icy popsicles is definitely a great way to beat the heat. However, for certain reasons that you need to confine your birthday party indoor and without air con, there are still ways to combat the heat and stay cool by adding more chilled and refreshing food to your party. With all the cooling party food to cool you and your guests down, everyone could embrace the heat and treat it like a summer birthday party.
#1. Ice Kacang & Chendol
Who can resist the cooling sweet local desserts – Ice Kacang? It is a mini icy mountain shave of ice covered with sweet, colorful syrup and condensed milk with toppings such as beans, palm seeds and grass jelly. It is well liked by young and old and considered one of the best treat in a fiery hot weather. Another similar local favorite dessert for hot weather is Chendol. Like Ice Kacang, it is also a shaved ice but it is covered with coconut milk, gula melaka syrup (palm sugar), corn and red beans. It is normally serve as a drink and is equally popular as Ice Kacang so you can make this as another option for guests.
You can a get a shaved ice machine and a platter of toppings ready and let your party guests DIY themselves. Both the kids and adult guests will enjoy shaving the ice together and why not let them have a little competition to see who makes the prettier and tallest Ice Kacang. It should be fun and a great way to celebrate a birthday party in a hot day!
Where to Get Shaved Ice Machine?
 USD35.24
Get Your Ice Shaver from Amazon
#2. Agar Agar Jelly
Image Source: jellomoldmistress.com
Agar Agar is a common and popular jelly dessert in Singapore. Everyone loves it especially on a super hot day. The jelly agent from Agar Agar is derived from seaweed so it is good for guests who are vegetarian. Agar Agar itself is tasteless so sugars or honey and other ingredients such as fruits are added to it to make it sweet and refreshing. Check out jellomoldmistress.com for some inspiring ideas of how to make beautiful Agar Agar or Jello as they called it in US. Get some nice and creative Agar Agar molds such as cute animal molds, Hello Kitty molds or beautiful flower molds so that your Agar Agar will not only look refreshingly appealing but appetizing too.
Where to Get Nice and Creative Agar Agar Molds?
USD9.99
Buy from Amazon
#3. Sng Bao
The long plastic tube "Sng Bao" (Hokkien for ice bag) is an old school childhood snack. The older generation would have fond memories of it as it is one of the nicest and cheapest icy treat in that era. It was almost every child favorite snack after school. Today the humble "Sng Bao" has upgraded with a more hipster name like Ice Popsicle or Ice Candy and come in many different favours. It is easy to make, check out the Sng Bao recipe here or order in bulk and deliver to your door from vendor such as Sng Bao Society. Your party guests will love it as it is easy to cut and suck but maybe a little chilling to hold. I believe your guests don't mind in such a hot day!
#4. Popsicles
Another sweet delicious icy treats that everyone loves in hot days is the colorful popsicles. Like the Sng Bao, popsicles nowadays have become more sophisticated as there are non-alcoholic and alcoholic version. Some vendors like Popaganda in Singapore offers many variation of their popsicles including 100% vegetarian popsicles and fresh fruity popsicles with no sugar or preservatives. These healthy and pretty popsicles made a great party snack as there are many variation and flavours cater to different taste and requirements of different guests.
If you a DIY person, you can prepare ice popsicles in advance. There are many types and sizes of ice popsicles molds around, get one you like and you can start filling it with refreshing organic fruit juice. If you are afraid of mess with dripping, get the popsicles molds with a slurper straw.
Where to buy Popsicles molds?

USD8.90
Get the Popsicle Molds from Amazon
#5. Ice Cream
Cold, smooth and creamy ice cream with different toppings and flavors, who can resist ice cream in a hot day? Some ice cream vendors e.g. Ice Cream and Ice Cream offers ice cream delivery services to your house so you can order in advance to prepare for the party. To please both the children and adults, it is great to have variety of choices. There are many ways to eat ice cream, you can either prepare healthy toppings like fruits and nuts to go with it or you can get some bread, biscuits and make Sandwich Ice Cream. Todays, the kids love to mix their ice cream with waffles, it's another fun way of eating ice cream. You can prepare the ingredients and let your guests have fun creating their own version of ice cream. Get some nice colorful ice cream bowls and spoons for serving, they can be reused after washing so save you the cost to buy every time you have a party.
Where to buy nice ice cream bowls?
#6. Fruit Skewers
Fruit Skewers are a great party and hydrating food. They are colourful, sweet and refreshing so your party guests will naturally be attracted to them. Follow these steps to create beautiful fruit skewers. Since the fruits are skewed, they are portable and easy for guests to eat and move around to interact with other guests but remember to trim off the sharp ends for the safety of children. You are free to add any fruits you like but to prevent the fruits such as apples and bananas which turn brown easily, put them in a bowl of sprite or mild salt water before skewing.
#7. Watermelon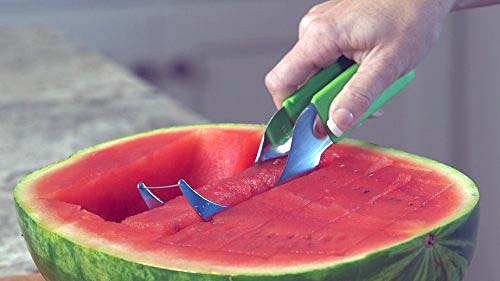 If watermelon is said to be the best fruit for quenching thirst on hot dry days, I think nobody would disagree!  As watermelon contains 93% of water, it is one of the best fruits to serve for outdoor or indoor parties on a fiery hot days. To avoid any mess while eating the juicy watermelon, you can either slice the watermelon using a Slice Right Watermelon Cutter or cut them into a Finger Food Snack size, see video below.
The method shown in the video prevents quick oxidation of the watermelon and keep it fresher for a longer period and this is especially useful when you have a longer birthday party.
However, if you are an artistic host and particular about the food presentation, you can use your cookie cutter to create many fun cute shapes from the watermelon and present them as a fruit bouquet. Click here to see how Two Healthy Kitchen demonstrated the steps to create a beautiful fruit bouquet that would lure kids away from chocolate and chips. Alternatively, put them back into the watermelon rind and decorate it like the picture on the right. Your guests will be sure impressed by your creativity.
Where to buy the Cookie Cutter?

USD24.99
Get the cookie cutter from Amazon
#8. Refreshing Fruit Juices
Sugar Cane, Coconut, Orange juice and mixed fruit juices are natural beverages to keep your birthday party guests hydrated. The refreshing aroma of these fruits can cool one's body and mind in the burning hot weather. The colours of these tropical fruits make a great party decoration accessories too so get a good mix of fruits, ice cubes and a good fruit extractor; let your guests DIY and customize their own fruit juices. It should be fun and keep your guests entertain themselves in the hot weather birthday party.
Where to buy Fruit Juice Extractor?

USD99.95
Buy Fruit Juice Extractor from Amazon
#9. Cooling Herbal Drinks and Soups
To the local, Chrysanthemum tea, Lemon Barley water and Chin chow drink (Grass Jelly Drink) are popular cooling Chinese herbal drinks in Singapore. Likewise, the heat relief soups such as Cheng Tng and Green Bean soup are some of the popular and traditional ways to beat the heat. The Chinese believes that these cooling drinks and heat relief soups help to relieve heat, quench thirst and detoxify the body. The cooling minerals in these drinks and soups make people less cranky due to the heat so they are good for the body and should be made as one of the must birthday party dessert items. Both the children and adults should enjoy them as they light and sweet.
#10. Singapore Styled Salad – Rojak

When the weather is hot, you need something sweet, spicy, sour and savoury to perk up your appetite. Having a Singapore Chinese or Malay styled Rojak just fit the bill. It's easy to whet it up as there is no fixed rule what ingredients you can put into the Rojak, see video above. You can create your own version by adding your own favorite fruits and vegetables such as pineapple, ambarella (aka kedondong in Malay language) cucumber, jambu, mango, green apples, turnip, bean sprouts, grilled Cuttlefish, Tau Pok and You Tiao to the Rojak sauce.
However to achieve the optimal texture, the fruits and vegetables you use must be crunchy and contrast in taste. Sprinkle some crusted peanuts over the dish will make it a mouthwatering party food for your guests. To make it extravagant, you can pair it with century eggs and picked ginger slice.
#####
With all these refreshing and cooling food available for the birthday party, your guests should be able to stay cool and be happy in the hot day so embrace the weather and enjoy.