Blog
New Year Gifts Ideas 2016: New Look for New Year
---
December 25, 2015
New Year
---
---
Looking for a cool New Year's Eve gifts for your significant other? If one of your New Year's resolution is to encourage your the other half to stay healthy, active and better looking then pick a gift that will improve his or her overall health and appearance.
Below is a list of New Year's Eve gifts ideas that helps to promote healthy lifestyle and personal grooming. They are practical and handy gifts that will not break the bank, in fact they are not more than $50 so will make a perfect budgeted gift for the New Year's celebration. They are categorized into "New Year's Eve Gifts Ideas for Boyfriend / Husband" and "New Year's Eve Gifts Ideas for Girlfriend / Wife" for your easy search and access.
New Year's Eve Gifts Ideas for Boyfriend / Husband
#1. Hair Trimmer for Men: Philips Norelco Multigroom 3100
To look professional, men need to trim away the excess and unwanted hair to achieve the clean and polished look. This all-in-one hair trimmer from Philip (Model QG3330/60) is a handy tool as it combines 5 tools into one; it is not only a full-size trimmer, beard comb, stubble comb, detail trimmer and nose trimmer. The Philip hair trimmer has great degree of precision in terms of length settings so men can control the exact style they want. Will be a handy tool for boyfriend or husband who need grooming for hair, beards and mustaches daily.
Price: $15.95
Buy Philips Norelco Multigroom 3100, All-in-One Trimmer with 5 attachments here.
#2. Cycling Outdoor Sunglasses
Polarized and functional man sunglasses to protect one for outdoor activities. These stylish sunglasses are made with shatterproof PC plastic so they provide excellent resistance to impacts. They come with five interchageable frames and extra lenses so you can change them according to your outdoor activities. It is versatile, light and fit comfortably onto the face so will make a perfect gift for those who enjoy outdoor sports.
Price: $12.00
#3. iPhone Sports Armband and Headset
A new year starts with new routine. This water resistant iPhone sport armband with a key holder will be a great gift for those who plan to start a new routine workout to achieve new weight and new look. The sport armband comes with a free screen protector and will fits iPhone 5/5S/5C, iPod 5, Galaxy S4. It can be paired together with a sweat resistant Bluetooth headset with noise deduction capability so that one could enjoy noise-free quality music while working out.
Price: $9.88 (for iPhone Sports Armband)
$25.99 (for Wireless Sports Earbuds)
Buy iPhone Sports Armband here.
Buy Wireless Sports Earbuds here.
Buy Premium Tribe Running iPhone 6S | 6 (4.7″) Sports Armband here.
Buy Bluetooth Headphones Wireless Sports Earbuds here.
#4. Sleep Mask: Lightweight Soft Silky Eye Mask
One need enough sleep and rest in order to look fresh and radiant. The sleep mask is an affordable and effective tool that block out lights and promote deep sleep. This ultra-silky smooth sleep mask is soft, comfortable and allows the eyes to move freely without any pressures. A great New Year's Eve gift for your the other half trying to sleep while you are still busily working.
Price: $9
#5. Facial Moisturizer cum Soothing Aftershave Lotion
This facial moisturizer is specially formulated for men with all skin types and known as the "Skin Fuel for Men". It helps to restore and protect the skin from UV and environmental damages. One of its properties – Aloe Vera which is well known for acne healing helps to soothe skin irritation after shaving. The "Rugged & Dapper" facial moisturizer is an essential wardrobe item for men as it is easily absorbed by the skins without feeling greasy and shiny.
Price: $24.95
Buy Facial Moisturizer For Men here.
New Year's Eve Gifts Ideas for Girlfriend / Wife
#1. BPA Free Infuser Water Bottle 24 Oz
This 24 ounces BPA free nice cool-looking water bottle is a great fruit and tea infuser. You can add mint tea leaves, fruit, lemon and strawberry in it to make fruit-infused water so you can enjoy fresh dose of natural vitamins and minerals while you work out. The water bottle has an open-mouth type spout so it is easier to add water, fruit and wash up later. A wonderful New Year's gift for those who want to abandon junk sugary drinks and turn to healthy drinks.
Price: $18
Buy BPA Free Infuser Water Bottle here.
#2. All-in-One Personal Groomer for Women
This Conair satiny smooth ladies all-in-one personal groomer is a must tool to achieve the new look for the New Year. The shaver of the groomer has a gentle razor that is nice for the armpits and bikini area. The women will love it as it helps to remove hair from head to toe. Give this to your girlfriend or your wife as an awesome New Year gift.
Price: $20
Buy Conair Satiny Smooth Ladies All-in-One Personal Groomer
#4. Anti-Aging Dead Sea Mud Mask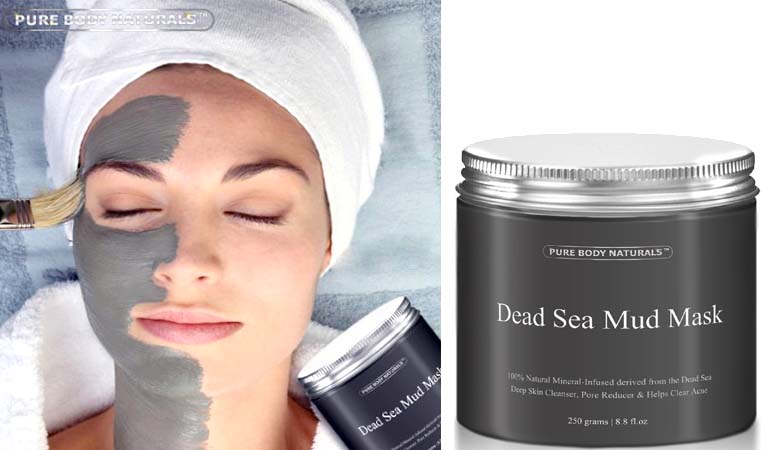 With every increment of the year, your skin will start losing its elasticity and firmness so providing constant maintenance is necessary. The Dead Sea Mud Mask has been referred as the "Fountain of Youth" as it contains natural ingredients, vitamins and minerals that help to hydrates and rejuvenate the skin. It also contain medicinal minerals that provides relief from acne, blackheads, pimples, acne scars and cellulite. In addition, it is a natural exfoliator and moisturiser; it helps to remove pimples and minimize pores so an excellent gift for ladies who want a silky and smooth skin to start a new year.
Price: $14.95
Buy Anti-Aging Dead Sea Mud Mask here.
#5. HSI Professional Iron Hair Styler
Get a new fresh look without going to the salon. Use the iron stylers to reinvent your hair with some curves and volumes to get a quick hair style. A quick effortless way to straighten, curl and make waves for your hair.  It's an ideal New Year's Eve for your girlfriend or wife as she could style to her heart content and be ready for the party.
Price: $39.99
Buy HSI Professional Ceramic Tourmaline Ionic Flat Iron, with Glove, Pouch and Travel Size Agran Oil Leave-in Hair Treatment
#####
The above New Year's Eve gift will help your significant other to put his or her best face forward to welcome the New Year. They are affordable and practical gifts to achieve good health and look. We all know that health and happiness are the best gift you can give to your loved ones so hopefully they can help your partner to stay healthy and young.
Have a Healthy and Happy New Year 2016!