Blog
Chinese New Year (CNY) Cookies 2016 Singapore
---
January 8, 2016
Chinese New Year
---
---
It is slightly less than a month's time away from Chinese New Year 2016 and we are saying goodbye to year of Goat and welcome the year of Monkey. What is Chinese New Year (CNY) without all the tasty goodies, biscuits and cookies? Especially the pineapple tarts which are synonymous with prosperity and good fortune. It has become a popular gift that you can give to friends, families and co-workers during the Lunar New Year period.
If you are wondering where to buy Chinese New Year cookies that are presentable yet delicious?  Check out the list of Chinese New Year cookies from various bakeries below; most of them offer online cookies ordering and delivery so save you the hassles of shopping and transporting.
Organic Gluten Free Almond Crunch, Organic Cashew Burst & Dark Chocolate Melts
Searching for guilt-free and healthy CNY goodies? The baked goods from Bud of Joy has no transfat, preservatives, artificial flavours, colours, GMO and refined sugar. Their goodies are made from fresh pineapples, fine organic raw cacao, 100% stoneground wholemeal flour and more.
Their almond crunch is gluten free, dairy free, low in GI and suitable for vegans. With their organic cashew burst, you can pop the entire cookie into your mouth and experience the rich nutty flavour as their cashew burst are made with organic cashews and sweetened with low GI coconut palm sugar. Last but not least, their dark chocolate melts are 100% wholegrain and are sweetened with organic molasses. Once you pop them in, you can experience the wonderful feeling of the cookies melting in your mouth!
Shop: Bud of Joy
Price: (items as seen in the above picture)
$39 (CNY Organic Gluten-free Almond Crunch)
$48 (CNY Organic 100% Wholemeal Pineapple Pearls)
$28 (CNY Organic Dark Chocolate Melts)
Tel: 6748 7687
Email: sales@budofjoy.com
How to Order: Order cookies online at http://budofjoy.com/
Collection Date: Self Collection from 5 January 2016 to 6 February 2016 in store
Where to Collect: 71 Circuit Road, #01-31, Singapore 370071.
Delivery Fee: $8.20 for weekdays, $15 for Saturdays
[sociallocker id="1217"]
Unusual Pineapple Tarts & Local Flavours CNY Cookies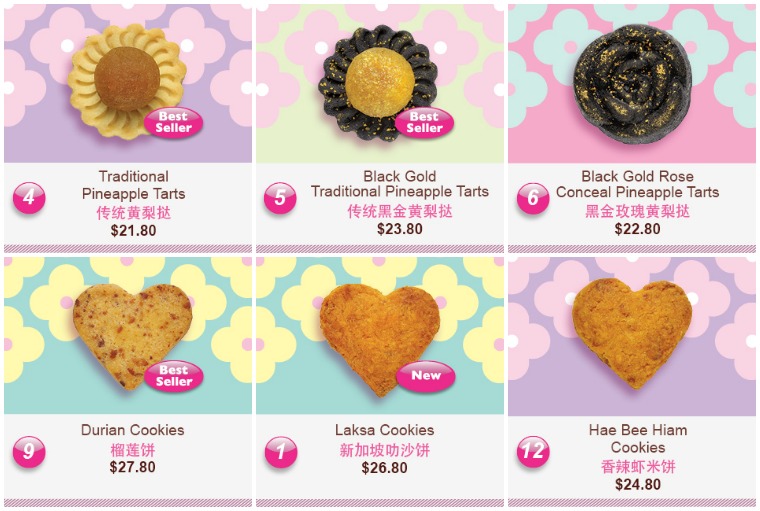 Home's Favourite is well-known for their durian mooncake but their CNY cookies are equally good as well. Besides the traditional CNY cookies, they have created very unique cookies with local flavours, for example, the Black Gold Traditional Pineapple Tarts, Black Gold Rose Conceal Pineapple Tarts, Durian Cookies, Laksa Cookies, Hae Bee Hiam Cookies and many more. Sounds rather unusual for cookies but if you are looking for something different and unique CNY goodies then look out for Home's Favourite at CNY promotional stalls at major Shopping malls, you should see them there. You will thanks them for the unqiue and diversity of cookies being offered.
Shop: Home's Favourite
Tel: 6272 2028
Pricing: As shown in the picture above.
Email: info@homesfavourite.com
How to Order: buy from their promotion outlets, check out the location at their website.
Website:  http://www.homesfavourite.com/index.html
Pineapple Tarts in Different Interesting Shapes

Bake Avenue is an online bakery shop managed by an experienced baker who has spent 30 years baking for family and friends. Apart from the usual flower shaped Pineapple Tarts with pineapple jam, you can also find Round Pineapple Tart balls with cheese and pretty Pineapple-Shaped Tart at Bake Avenue. The pineapple tarts will be packaged in a bottle. Bake Avenue will be having their annual CNY fair at the following venues so check out their other delicious cookies like Kueh Lapis, Shrimp Roll, Almond Sugee and Peanut Puffs if you are there.
Club HDB @ Toa Payoh HUBDate: 19 to 21 January 2016Time: 11.30am to 2pm
Women's Tower Podium , L1 @ KK Women's and Children's Hospital
Date: 26 January 2016
Time: 11.30am to 3pm
Shop: Bake Avenue
Price: (items as seen in the above picture)
$21.90/box (Cheese Pineapple Tart)
$32.90/box (Pineapple Shaped Tart)
$18.90/bottle (Round Pineapple Tart)
Email: bakeavenue@ymail.com
How to Order: Order their CNY cookies online at http://www.bakeavenue.com/
Collection: Self Collection at Blk 249 Hougang Ave 3, Monday to Saturday, 8am to 8pm (advance notice required)
Delivery Fee: Free for orders above $500
Prawn Rolls, Love Letter, Almond Cookies & Peanut Cookies
Yang Yang is an online shop that sells traditional Chinese cookies and uses recipes that are passed down through generations. Their CNY love letters are paper thin and cracks without crumbling.  It is also not too sweet. Packed in premium CNY tin packaging, the premium almond cookies by Yang Yang was very well liked by foodies in Singapore. The almond cookies has a rich vanilla taste with a hint of almond and salty tinge. Apart from ordering online, you can also find them at the Takashimaya CNY fair and Vivocity till 17 February 2016.
Shop: Yang Yang (陽陽餅鋪)
Price:  (items as seen in the above picture)
$11 (CNY Prawn Rolls)
$18.80 (Premium Almond Cookies)
$22 (Egg Roll Love Letter)
$15.80 (Crunchy Peanut Cookie)
Email: sales@yangyang.com.sg
How to Order: Cookies online ordering at http://www.yangyang.com.sg/
Delivery Fee: $15
Premium Pineapple Durian Tarts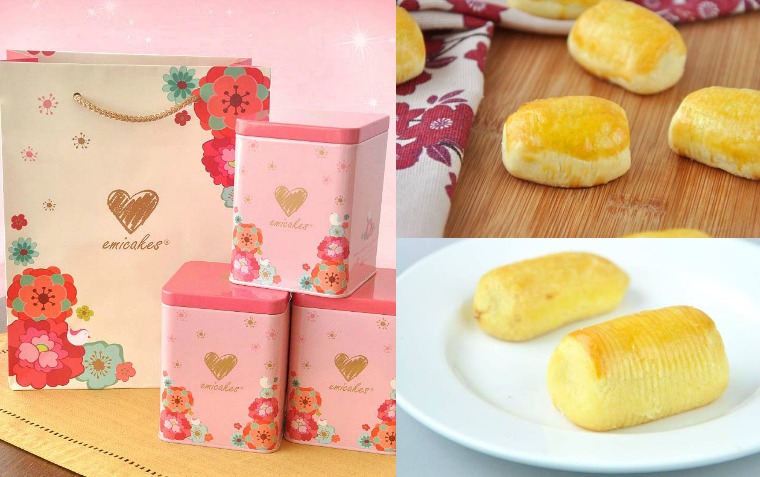 Yes, you see it right! It's not Pineapple Tarts but rather Durian, our national and king of fruits in Singapore. How could we celebrate Chinese New Year without our favourite fruit? Emicakes has not only created a premium version of Durian Tart but has upsized it to make it more enjoyable this year. Customers in Emicakes are also spoilt for choices as they are offered more tasty options for Pineapple Tarts such as the Pineapple Mango Tarts, Pineapple Cheese Tarts and Pineapple Chocolate Tarts. Your Chinese New Year will not be the same this year with so many variety of Pineapple Tarts.
Shop: Emicakes
Price: $18.80 per container (for Durian Tart)
How to Order: Order directly from their outlets
Website:  http://emicakes.com.sg/
Preservative-free Pineapple Tart, Shrimp Rolls & Kueh Bangkit
Looking for healthy CNY cookies? In Kele Cakes and Cookies, they do not use any preservatives, additives and artificial colouring in their cakes and cookies. Their products are baked and packed immediately so you can enjoy the freshness and fragrance of every piece of cookies. However, their freshness comes with a price, they could not be stored too long so make sure you consume the cookies at the recommended period. You can enjoy early bird discounts of 10% on all the CNY goodies from now till 28 January 2016. They will be having their roadshows at the following locations:
• Takashimaya B1: 14 Jan to 6 Feb
• Raffles Xchange B1: 11 Jan to 5 Feb
• Jurong Point L1: 18 Jan to 6 Feb
• Bugis Junction L1: 18 Jan to 6 Feb
• Century Square L1: 22 Jan to 6 Feb
• Parkway Parade: 25 Jan to 6 Feb
Shop: Kele Cakes and Cookies
Price: Pricing not available online.
Tel: 6560 1249
Email: info@kele.sg
How to Order: Cookies online ordering at http://kele.sg/
Collection: At their roadshows
Delivery Fee: Free delivery for orders that are above $500
Arrowhead Chips, Butter Cookies & Wealth Collection Cookies
Papa Cookies is an online shop that sells traditional homemade Chinese New Year cookies. Their cookies are handmade with fresh ingredients, no MSG, artificial colourings and flavourings. Their Arrowhead (also known as Chi Ku) chips are crunchy and tasty just like potato chips. Arrowhead chips are one of the favourite snacks for Chinese New Year and it is a must have for every household. Butter cookies are Papa Cookies' classic flavour made with top quality unsalted butter. The cookie is made to look like a blooming flower with a red dot in the centre. Such visual-stunning flower and melt-in-mouth cookies will be a big hit among the children.
Shop: Papa Cookies
Price: $11 to $16.80
Tel: 9170 1687
Email: enquiry@papacookiessingapore.com
How to Order: Order cookies online at http://papacookiessingapore.com/
Collection: Pickup at Toa Payoh MRT station
Delivery Fee: $10
Almond Nut Crunchies, Cornflake Cookies & Macadamia Cashew Sugee
Bengawan Solo is an established brands in Singapore and well-known for its kueh, cakes and pastries. You can find a wide range of delectable Chinese New Year cookies and tarts in its islandwide outlets including the irresistible and crunchy Almond Nut Crunchies, Cornflake Cookies and Macadamia Cashew Sugee. Also, not forgetting the all-time favourite cookies such as the Pineapple Tarts, mini Shrimp Rolls, Fish Keropok, Folded Love Letters, Kueh Koya and etc. These yummy cookies will make a nice Lunar New Year gifts to your families and friends too.
Shop: Bengawan Solo
Price:  (items as seen in the above picture)
$19.80/Tray & $20.80/Tin (Almond Nut Crunchies)
$18.80/Tray & $19.80/Tin (Cornflake Cookies)
$20.80/Tray  & $21.80/Tin (Macadamia Cashew Sugee)
Tel: 6756 9088
Email: sales@bengawansolo.com.sg
How to Order:  Buy from their outlets
Website:  http://www.bengawansolo.com.sg/Default.aspx
Homemade All-time Favourite CNY Cookies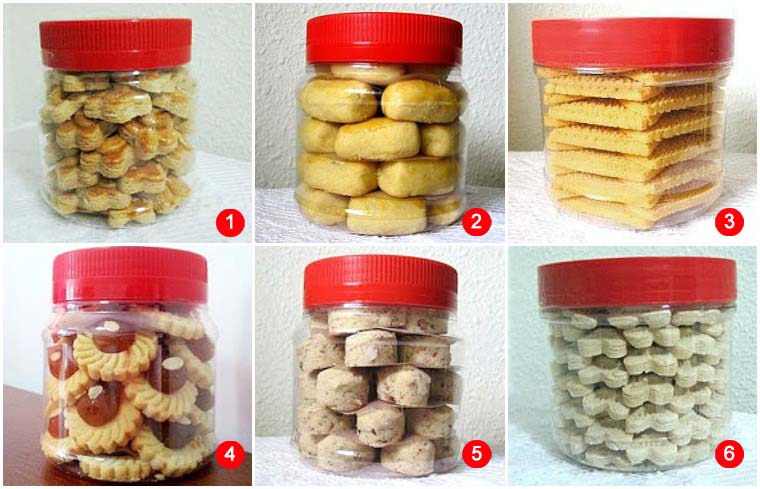 Sweetots is a traditional baker who uses natural and fresh ingredients to make CNY cookies. Each cookie is lovingly made with recipes passed down from their grandma. All their cookies are handmade and you can find the all-time favourite CNY cookies here, including the Pineapple Flower Tart, Pineapple Golden Pillow Tart, Golden Butter Bars, Cashew Nut Cookies, Almond Cookies and Kueh Bangkit.
Shop: Sweetots
Price: (items as seen in the above picture)
$11 (Cashew Nut Cookie)
$11.50 (Pineapple Golden Pillow Tart)
$10.50 (Golden Butter Bars)
$11.50 (Pineapple Flower Tart)
$11.50 (Almond Cookie)
$11.50 (Kueh Bangkit, Original flavour)
Tel: 9615 0655
How to Order: By email to sweetots@singnet.com.sg or SMS
Delivery Fee: Free delivery for orders above $80
Website:  http://sweetots-cny.blogspot.sg/
Yuzu Pineapple Rolls, Red Bean Blood Orange Cookies, Permesan Cheese Cookies

Looking for exquisite creations for Chinese New Year? Try the new festive cookies from Pine Garden Cakes including Yuzu Pineapple Rolls, Red Bean Blood Orange cookies and Parmesann Cheese Cookies. Pine Garden Cakes is a heartland bakery that has been around for more than 30 years, they offer a wide range of CNY delectable cookies which you could order directly from their website and get them deliver right to your doorstep.
Shop: Pine Garden Cakes
Price: (items as seen in the above picture)
$29 for 35pcs/bottle (Yuzu Pineapple Rolls)
$16/bottle (Red Bean Blood Orange Rounds)
$12/bottle (Parmesan Cheese Cookies)
Tel: 6457 6159
Email: enquiries@pgcake.com
How to Order: Order online at http://www.pgcake.com/Festive.aspx
Collection: Block 529 Ang Mo Kio Ave 10 #01-2369, Singapore 560529.
Delivery Fee: $18
#####
After reading the list, you should be happy that you have wide variety and choices of yummy CNY cookies to choose from for this Lunar New Year. The cookies can be ordered either online or you visit the shops personally. Most of the bakeries and shops are also having special promotion at major shopping malls so visit them early and try their CNY cookies out. Have fun shopping for your best CNY cookies and goodies. Share with us in the comment box if you find any CNY cookies that are nice and good.
Last, may we wish the Year of Monkey brings you good health, wealth and fortune!
恭喜发财, 万事如意!
[/sociallocker]