Blog
Best Christmas Log Cake Singapore 2015
---
November 15, 2015
Christmas
---
---
Christmas 2015 is coming soon! Have you started hunting for the best Christmas log cake for your Christmas party?
You may think that the best Christmas log cakes must come from top hotels, our list here shows otherwise. You can now get equivalent standard of yummy log cakes near your working place or even from your friendly neighbourhood cake shops and bakeries too. You will be delighted by the variety of log cakes offered by them – from the traditional chocolate Yule log cake to the unconventional durian log cake, even the vegetarians are not left out. You can choose to have eggless or diary free log cake for your guests and not forgetting the juniors, get an ice cream log cake and see them jump for joy!
Many of these bakeries and cake shops also provide online ordering and delivery service right to your door step so you will be spoilt for choices and be pampered this Christmas.
#1. Vegan Christmas Chocolate Fudge Log Cake
Using 74% dark chocolate, this Log Cake will wow your guests with intense richness of smooth molten chocolate especially when it is eaten warm. It is eggless and diary free so it is ideal for your vegan guests too.
Price: $60 (Available from 20th Nov 2015 – 15th Dec 2015 only.)
Shop: Delcie's Desserts and Cakes Pte Ltd
How to Order: Order online at http://delcies.com/cake-order
Where to Collect: Self collection at Blk 34 Whampoa West #01-83, Singapore 330034.
Delivery Fee: $25 (Deliver at either 12nn-4pm slot or 4pm-8pm slot.)
#2. My Fat Lady's Christmas Log Cake
Customise your own Christmas Log Cake for a unique treat this 2015! Pick your own cake bases such as belgian chocolate, raspberry red velvet, vanilla sponge and match it with your favorite cake fillings. You can have fruity buttercream fillings such as strawberry jam, passionfruit and lemoncurd or if you prefer chocolaty fillings, we have ganache, choc-hazelnut (think nutella!), choc-peanut butter and white chocolate. We also have other cake fillings such as cream cheese, salted caramel, cookies & cream.
Price: $48 for 1 kg (Available from now – 25th Dec 2015 only.)
Shop: My Fat Lady Cakes
How to Order:
Via our online store (to be launched soon)
Email us at hello@myfatlady.com
SMS / Whatsapp us at 9025 4126
Where to Collect: Self collection at 149 Silat Ave #01-52 S160149, along Jalan Bukit Merah (opposite Singapore General Hospital).
Drivers
Take the carpark entrance along Jalan Bukit Merah road and make a left turn to get to the car park behind  Blk 149
Public Transport
Nearest MRT is Outram MRT; take Exit H and board buses 961 or 147 towards Jalan Bukit Merah. Alight after 3 bus stops when you see the white Sikh temple. We are located behind the bus stop.
Delivery Fee: $30 (Delivery timings are available in hourly slots from 10am to 7pm e.g. 11am -12pm or 1.30pm-2.30pm, subject to availability.)
[sociallocker]
#3. Mao Shan Wang Durian Yule Log Cake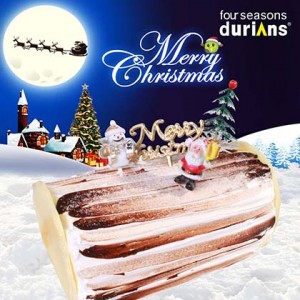 One of the few Halal Durian Yule Log Cakes found in Singapore. If you have not enough of durian the last few months, here is another chance to taste the "King of Fruits" for your merrymaking. There is nothing more joyous than celebrating Christmas with your beloved family, friends together with your favourite fruit and log cake.
Price: $98
Shop: Four Seasons Durians
How to Order: Order online at http://www.fourseasonsdurians.com/
Where to Collect: Self collection is available at our nearest outlets.
Delivery Fee: $15 for order below $35 and free delivery above $35.
#4. Christmas Log Cakes
Come and celebrate this year's Christmas with our joyous Christmas Log cakes. They are made with premium ingredients and beautifully decorated with Christmas figurines.
Price: $80 for 1kg (Available from 15th Nov 2015 – 2nd Jan 2016 only.)
Shop: Cuppacakes.com.sg
How to Order: Email at orders@cuppcakes.com.sg or call +65 9863 5320
Where to Collect: Self collection at 14 Robinson Road, #08-01a, Far East Finance Building, Singapore 48545.
Delivery Fee: $15
#5. Crunchy Chocolate Log Cake
Natural and fresh ingredients culminate in a magnificent log cake elegantly decorated with Christmas-themed ornaments and chocolate shavings, and filled with walnuts and crunchy Valrhona Chocolate pearls.
Each cake weighs approximately one full kilogram with a full length of about 12 inches. Bring one home for the family to share or send it out as a gift to close friends and relatives to spread some love during the holiday season.
Price: $52 (Available from 1st Nov 2015 to 31st Dec 2015)
Shop: Temptations Cakes
How to Order: Order online at http://temptationscakes.com.sg, email to info@temptationscakes.com.sg or call 6440 9200.
Where to Collect: Self collection is available at 42 Joo Chiat Place, Singapore 427766.
Delivery Fee: $30 (Delivery Time Slots: 11am to 7pm (weekday) / 9.30am to 7pm (weekends))
#6. Joy of Delifrance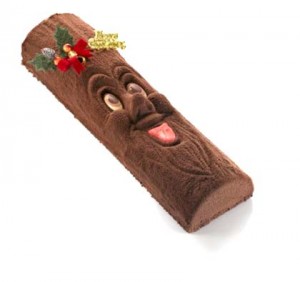 A log cake with a smiling face adds smiles to everyone's face. This is the signature Christmas log cake from Délifrance. It is made with chocolate sponge layered with 100% Valrohna Fine French Chocolate.
Price: $60 for 1 kg
Shop:  Delifrance
How to Order: Order online at www.delifrance.com.sg, email us at catering@delifrance.com.sg or call us at 6324 4333
Where to Collect: Self collection is available at our outlets but order & collection must be from the same outlet.
Delivery Fee: $35
#7. Yuzu Raspberry Log Cake
Moist and fluffy yuzu-scented chiffon roll sponge, filled with refreshing raspberry cream and topped with ivoire whipped chantilly cream. A light, not-to-sweet cake that would be a great finish to a festive celebration.
Price: $55 (Available from 1st Dec 2015 to 26th Dec 2015)
Shop: Edith Patisserie
How to Order: Order online at http://www.edithpatisserie.com/ or call 6443 7150 or email orders@edithpatisserie.com for enquiries
Where to Collect: Self-collection at Edith Patisserie,11 Cavan Road, #01-04, Singapore 209848
Delivery Fee: $15
#8. Premium Black Forest Log Cake
Dark cherries bathed in Kirsch liqueur sandwiched between layers of chocolate sponge, crunch and ganache. Enrobed in Chantilly cream and accented by sweet pomegranate arils.
Price: $75 for 1.1 kg (Alcohol) / $65 for 1.1kg (No Alcohol)
Shop: Cake Crafters
How to Order: Email at cakecrafters@gmail.com or call 9060 0621.
Where to Collect: Self collection is available at
Blk 114 Ang Mo Kio Ave Ave 4, #01-349,
Singapore 560114.
Tue-Fri: 1pm – 8pm
Sat: 10am – 8pm
#9. Honey Manukadamia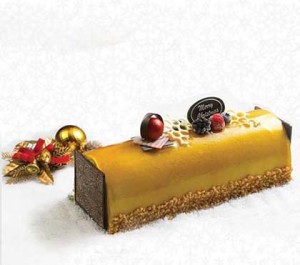 One of the new delectable ice cream log cake from Swensens this year. The name of the log cake is self-explanatory, it contains the renowned health properties – Manuka honey. It is paired with macadamia nuts and a melange of berries plus delicious chocolate which make you more cheerful, less sinful while you enjoy the fun and sparkling moment of Christmas.
Price: $58 (1 kg)
Shop: Swensen's
How to Order: Order online at http://www.swensens.com.sg/ or call 6788 8128 or visit our outlets for ordering.
Where to Collect: Self collection is available at our outlets.
Delivery Fee: $14
#10. Tradition Chocolate Log Cake
Old fashioned chocolate sponge, milk chocolate chantilly with coco crunch pearls & chocolate ganache.
Price: 0.5kg $48.00 / 1kg $68.00 (30% off till 30th Nov 2015)
Shop: The Bakery Chef
How to Order: Order online at thebakerychef.oddle.me or contact us at 6273 9211
Where to Collect: Self collection is available at Blk 161 Bukit Merah Central #01-3711, Singapore 150161.
Delivery Fee: $35 (from 11.30am to 4.30pm)
#####
Hopefully, one of these log cakes will bring you joy and happiness this Christmas. If you have come across any neighbourhood cake shops or bakeries that produce excellent X'mas log cakes, please share it with us in the comment below.
Have a blessed Christmas, everyone!
[/sociallocker]