Blog
Mid-Autumn Festival 2016: Best Mooncakes for Everyone in Singapore
---
August 15, 2016
Mid-Autumn Festival
---
---
This year's Mid-Autumn festival (中秋节) falls on 15th September 2016. It is also commonly known as Mooncake or Lantern festival and is one of the three most celebrated Chinese festivals. In Singapore, almost all races are involved in Mid-Autumn festival as children of different races find it fun carrying lanterns and playing together while adults are obsessed with mooncakes gifting, exchanging and eating. To cater to different tastes and dietary requirements, mooncake is no longer confined to traditional mooncake. Today, there are healthier version mooncakes available such as vegetarian mooncake, low-sugar mooncakes and even halal-certified mooncake in different flavours, shapes and sizes. Not forgetting those who are looking for new creative mooncakes each year, there are ice cream, chocolate and even our beloved local fruits flavours – Durian, Pomelo and Jackfruit.
As the Mid-Autumn festival or rather the Mooncake festival is approaching soon, you will see more fanciful and creative mooncakes offers during these mooncake promotion periods. You will be spoilt for choice of what mooncake to get or if you are thinking where to buy the best mooncake? We have compiled a list of different types of mooncakes for your reference, you should be able to find one favourite among them – from traditional to healthy or quirky mooncakes. There is always a choice for everyone.
Healthy Mooncakes
Natural Pandan Snowskin Mooncake
If you prefer 100% natural mooncake with no artificial colouring and preservative then check out the mooncake from Simple Indulgence Patisserie. The baker is not only dedicated to making healthy natural Pandan Snowskin Mooncakes (with golden salted egg yolk and lotus paste) but each of them look like a piece of beautiful art which is soft and tender to taste. If you are thinking of indulging yourself with mooncakes in this Mid-Autumn festival, these Pandan Snowskin Mooncakes could be a healthier version as you are not overload with too much sugars, salts, oils or calories.
Shop: Simple Indulgence Patisserie
Pricing: $28 (4 pcs per box) / $55 (8 pcs in a box)
Tel: 9113 8672
How to Order: Order online at http://simpleip.oddle.me/
Facebook: https://www.facebook.com/simpleindulgenceP
Singapore Signature Mochi Mooncakes
2am: Dessert Bar introduces the typical Singapore flavours Mocha Mooncakes so you should not be surprised to learn that the flavours is typical Singapore "Rojak" style – sweet, savoury and spicy. The flavours include the Chilli Padi, Laksa Leaf Lemongrass, Chendol Red Bean, Kaffir Lime Caramel, Gula, Melaka Pandan, Bah Kwa Poprocks, Ginger Flower Rojak and Salted Egg. All are Singaporean favourite local flavours. To satisfy all your needs in one go, 2am: Dessert Bar is giving you an option to have all the different flavours of 9 pieces of mooncake in a box ($68). It makes a wonderful gift if you are going to send to clients or friends as the Mocha Mooncakes contain such a uniquely Singapore flavours.
Shop: 2am: Dessert Bar
Pricing: $68 (9 pieces in a box)
Tel: 6291 9727
Email: 2amdessertbar@gmail.com
How to Order: Order online at http://www.janicewong.online
Delivery Fee: $20 per location, free for order above $300
Tung Lok Mini Autumn Blossoms Mooncakes
If you are a fruity person and looking for a healthier version of mooncake then you should check out the mini Tutti Frutti Collection from Tung Lok. This is the first time Tung Lok introduces such a unique fruity mooncake with different variations of local fruits combo such as the Jackfruit with Pomelo, Honey Mixed Nuts and Durian with Chestnut. The natural sweetness of these fruits give a refreshing taste to the mooncake and hence required less sugar during the mooncake making. The fruit and nut in these snowskin mooncake also give an extra boast of fibres to the body. This serves as a good alternative for calories conscious consumers who want to indulge on mooncakes but afraid of high calories.
Shop: Tung Lok
Pricing: $57.78
Tel: 6270 7998
Email: Use Contact Form
How to Order: Order online at http://www.homefiesta.tunglok.com/
Delivery Fee: $16.05 for main island
$26.75 for Sentosa & Jurong Island
(Free for order above $80)
Gluten Free & Sugar Free Mooncakes
The traditional White Lotus Paste Mooncake from Delcies is not only gluten, sugar free but also vegan friendly and halal certified. This makes their mooncakes suitable for those who have dietary restriction such as diabetic condition or overweight but it still contains peanuts and nuts sources. If you are thinking to give away mooncakes as a gift to health-conscious family or friends, you are free to mix your own flavours such as White Lotus paste with Black Sesame filling with no sugar ($26), Pandan paste with Salted Mung Bean Filling with no sugar ($26) or Protein-packed Mixed Nuts filling ($24) with less sugar and Red Bean paste with Yam Lotus filling with less sugar ($24). With less sugar or no sugar, everybody will be happy to have their own preferences of mooncakes.
Shop: Delcies
Pricing: $98
Tel: 6282 2951
Email: order@delciesdesserts.com
How to Order: Order online at http://delcies.com/
Delivery Fee: $25-$35 & free delivery for purchase above $300
Premium Mini Mooncake
Mini Snowskin Mooncakes (迷你冰皮月饼)
Mooncake is notoriously well known for its high calories so if you want to feel less guilty while eating merrily during the Mid-Autumn festival celebration, go for the mini snowskin mooncake as it helps to cut down calories intake and reduce your guilt. To celebrate this year mooncake festival, Fairmont has a good range of premium mini snowskin mooncakes for selection. Some of them includes the Mini Snowskin Yuzu Chocolate Crunchy Pearl ($66), Mini Snowskin Rum & Raisin Chocolate Truffle ($64), Mini Snowskin Cranberry & White Lotus Mooncake ($66) and Mini Snowskin Champagne Truffle & Chocolate Ganache Moonake ($68).
Shop: Fairmont
Pricing: $66 – $70 (8pcs per box)
Tel: 6338 8785
Email: fairmontsingapore.mooncakes@fairmont.com
How to Order: Order online at http://www.celebrationscentral.com.sg/
Delivery Fee: $50 per location or self-collection at the following outlets:
Fairmont Singapore's Mooncake Booth, Level 2, Fairmont Singapore, 80 Bras Basah Road Singapore 189560
Collection from 8 August to 15 September 2016, 10:00 AM to 10:00 PM daily.
Best Traditional Mooncakes in Singapore
Teochew Mooncakes (潮州月饼)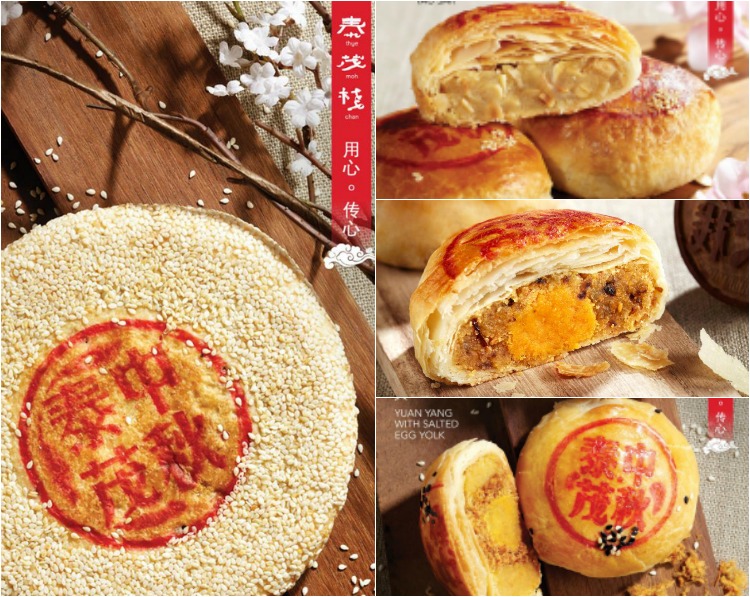 The Teochew mooncakes in Thye Moh Chan (泰茂栈) are popular among the older folks as the quality and flavours of the mooncakes remain unchanged since the shop started in 1943. One can still find the traditional sweet Teochew mooncakes such as the one big piece Teochew Mooncake传统潮州月饼($18.80) and Sweet Tau Sar 甜豆沙月饼 ($28.80, 4pcs in a box) or the savoury mooncakes such as the Yam with Salted Egg Yolk Mooncake 芋泥月饼 ($33.80, 4pcs in a box) and Salty Tau Sar with Salted Egg Yolk Mooncake 咸豆沙月饼 ($28.80, 4pcs in a box). To appeal to the local younger crowds, they also introduce the Mao Shan Wang Durian Mooncake 猫山王榴莲月饼 ($39.80, 4pcs in a box). Some of these mooncakes also available in one big piece option and they are meant to be shared with the family or friends. That's what the purpose of Mid-Autumn festival is about – reunion and sharing; it's a good time for family gathering and catching up with one another.
Shop: Thye Moh Chan (泰茂栈)
Pricing: $18.80 – $30.80
Tel: 6732 8858 (Paragon) / 6604 8858 (Chinatown Point)
Email: enquiry@thyemohchan.com
How to Order: visit their outlets or call to order
Website:  http://thyemohchan.com/
Facebook: https://www.facebook.com/thyemohchansingapore
Treasures Yam Mooncake (八宝月饼芋泥)
Another traditional Chinese confectioner who sell handmade Teochew mooncakes since 1964. Their classic mooncakes is the Dao Lao Bing大烙饼 ($15) which looks just like the full moon on the day of Mid-Autumn festival. The round shape symbolizes completeness and reunion for the family. As such, the older generation will still buy it for its significant meaning and moon praying purposes. Besides the traditional mooncakes such as White Lotus Paste Mooncake Double Yolk 4 Pieces 双璜白莲蓉 ($53.20), White Lotus Paste Mooncake Single Yolk 4 Pieces 单璜白莲蓉 ($51.20) and Eight Treasures Walnut Mooncake – Ba Bao He Tao Su 八宝月饼 ($58), they have the Eight Treasures Yam Mooncake 八宝月饼芋泥 ($58) which make it an ideal gift as it is elegantly packed in a gold colored box.
Shop: Gin Thye锦泰
Pricing: $58
Tel: Call the following outlets to order.
Sembawang Outlet: 6257 1566
Ang Mo Kio Outlet: 6458 0206
Bukit Batok Outlet: 6899 6929
Bishan Outlet: 6255 6362
How to Order: Call or order online at http://ginthye.com/
Unusual Mooncakes
Honey Chocolate Mooncakes
If you are a fan of chocolate, you will be delighted to know that Shangri-La Hotel have a premium Honey Chocolate Mooncakes gift set. It includes flavours such as Dark Chocolate, Milk Chocolate and Salted Toffee, White Chocolate Passion Fruit with Mango and Roasted Sicilian Pistachio. Each box contains 8 pieces of mooncakes with four flavours; each flavours contain two pieces so you can share it with your loved ones. These honey chocolate mooncakes are packed in a beautifully golden hexagon-shaped box so it makes a perfect premium gift to give family or friends who are also a die-hard fan of chocolate.
Shop: Shangri-La Hotel
Tel: 6213 4511 / 4398
Email: dining.sls@shangri-la.com
How to Order: Order online at http://slsfestive.oddle.me/
Website:  http://www.shangri-la.com
Star Wars Themed Mooncakes
If you have not heard of Mei Xin Mooncakes, it is one of the old and established brand from Hong Kong. They have about 170 stores located in Hong Kong and offer a wide range of delectable mooncakes. You can now buy Mei Xin Mooncakes in Singapore without flying to Hong Kong. All thanks to Frosts Food & Beverage who is the sole distributor in Singapore. One of their popular mooncakes is the Star Wars themed mooncakes. If you are one of the Star Wars fans, you would not want to miss this as a gift for yourself or family. It comes in a set with 2 boxes and there are 4 pieces of mooncakes in a box. The flavours are all-time favourite: chocolate lava and egg custard.
Shop: Frosts Food & Beverage (Mei-Xin Singapore Sole Distributor)
Tel: 6862 2166
Email: marketing@frosts.com.sg
How to Order: Order by phone or visit their outlets.
Delivery Fee: $20 (Free delivery for bulk orders of 25 boxes)
Website:  http://sgmeixin.com/
Ice Cream Mooncake
Some of you including children may not like the taste of the mooncake but what if it is an ice cream mooncake? This will definitely excite everybody especially the younger crowds when the weather is so hot nowadays! Swensen's ice cream mooncakes is a refreshing alternative to traditional mooncakes as it is not too oily. Their signature ice cream mooncakes includes the Sticky Chewy Chocolate, Durian Royale and Strawbeery Fields Forever and for this year Mid-Autumn festival celebration, Swensen's introduces three more new flavours: Salted Eggy, Coco Yummy and Aroi Milk Tea. You will be spoilt for choices as you get to pick your choice of flavours in a box of four at a price of $35.80. The mooncakes are packed in a cooler bag so it will not melt too quickly before you reach home.
Shop: Swensen's
Pricing: $35.80
How to Order: Order online here and pick up at Swensen's outlets.
Mao Shan Wang Durian Mooncake
Tam Kah (香港谭家) is not only famous for its Cantonese cuisine but their mooncakes are popular among Singaporean too especially the older generation. One of their popular mooncakes is the Mao Shan Wang Durian Mooncakes which are flavourful and reasonable priced. Their durian mooncakes prepared for this Mid-Autumn festival include the Snowskin Premium Black Thorn Durian Mooncake ($44), Snowskin Premium Mao Shan Wang Durian Mooncake ($38), Snowskin Golden Phoenix Durian Mooncake ($35) and Snowskin D24 Durian Mooncake ($33). They all come in 4 pieces in a box.
Shop: Tam Kah (香港谭家)
Pricing: 50% off from now to 31 August 2016 & 40% off from 1st to 11st September 2016
Tel: 6220 1338
Email: sales@tamkahsharksfin.com
How to Order: Order online at tamkahsharksfin.com
Delivery Fee: $30 per location, free for order above $300
#####
You can see that most of the above vendors provide online ordering and mooncake delivery service so if you are running out of time, just let your fingers do the shopping. Do your pre-ordering now online and get the mooncake deliver right to your doorstep. In addition, most of the mooncake packaging are beautifully designed so they will make an impressive gifts to your family, friends or customers.
Enjoy your hunt for mooncake and have a happy Mid-Autumn Festival!
中秋节快乐!