Blog
Best Mother's Day Cakes 2016 in Singapore
---
April 15, 2016
Mother's Day,Occasions
---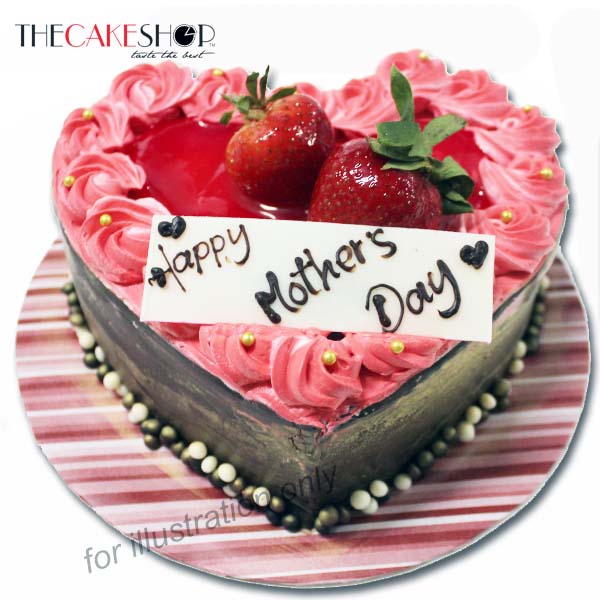 ---
Another three more weeks and we are going to celebrate Mother's Day 2016. It is a special day for all mums to take a break and relax as mum's job is the most demanding but least appreciated job in the world. It should be mum's official off-day and time where children show their appreciation for mums and pamper them. If you are planning a mother's day celebration, give her a special treat and get her the best Mother's Day cake that she deserves.
We have compiled a list of Mother's Day Cakes where you can find them easily in Singapore as most bakeries provide online ordering and cake delivery. You will be amazed how the design of Mother's cakes are getting more and more gorgeous these days. All of them are beautifully crafted and decorated with colourful fruits, cream and figurines which look more like a piece of art than food. In addition, there are more flavours and styles available now, it can be a nice little gift to give to mum.
Buttercream Rose Cake
For this year Mother's Day celebration, Bloomsbury Bakers offers 3 sweet pastel colors Buttercream Rose Cake for selection: pink, purple and turquoise. You can choose your mum's favourite colour and pick from two sizes either 5 inch (800 gram) or 6 inch (1 kg). You will be spoilt for choices as there are fifteen flavours available such as all-time favourite Red Velvet, Vanilla Chocolate, Vanilla Strawberry and a healthier flavour such as Earl Grey Lemon. Your mum will be very pleased this year as she can have the rose and eat it too!
Name: Bloomsbury Bakers
Address: Blk 30 Bendemeer road, #01-889, Singapore 330030.
Tel: 6299 3450
Price: $100 for 5 inch cake weight 800g
$120 for 6 inch cake weight 1kg
Availability: Now to 8th May 2016
How to Order: http://www.bloomsburybakers.com/
(Advanced order is required, please fill up the order form from our website.)
Self Collection: Self collect at store from 10am – 6.30pm.
Delivery fee: no fee given
Macaron Stacks and Little Bloom Pots
The Mother's Day Cake from Little House of Dream is not the usual mom's cake. They have created something special this year – Raspberry Macaron Stack and Cupcake Bloom Pots. Their refreshing Raspberry Macaron Stack is made of healthy fruits such as raspberries, blueberries, strawberries and blackberries while the Blueberry Macaron Stack contains chocolate cream studded with fresh blueberries. The berries are believed to be good for vision and provide anti-aging benefits so mum should feel good after eating all these berries. Little Bloom Pots, on the other hand, are cupcakes baked in a cute reusable silicon flower pot; there are 3 flavours available (Red Velvet, Nutella and Vanilla Strawberry). All are prettily piped with buttercream flowers which is sure to delight the special woman of your life.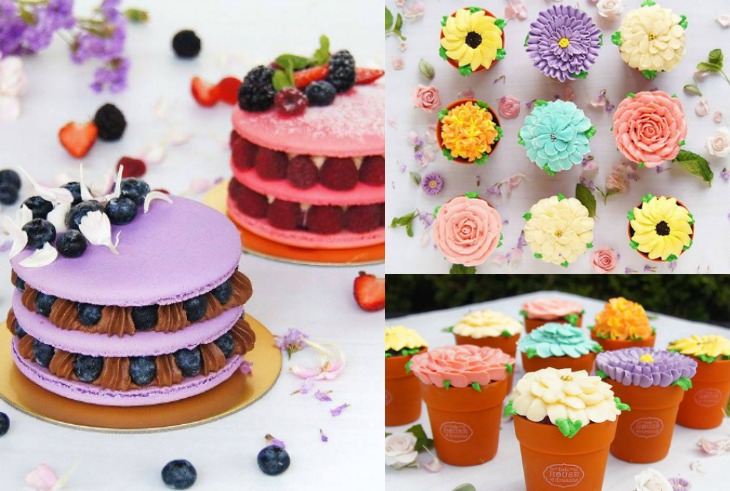 Name: Little House of Dreams
Address: Blk 8 Dempsey Road #01-14, Singapore 247696.
Tel: +65 6472 4977
Price: $49.90 (for Raspberry Macaron Stack)
$29.90 (Flower Pot Cupcakes 6 pcs)
Availability: 10th April 2016 to 8th May 2016 (Minimum 3 days lead time for orders.)
How to Order: http://www.littlehouseofdreams.com
Self Collection: Self collect from Dempsey road cafe.
Delivery Fee: $30
Mother's Day Love
Beautiful heart shape Mother's Day cake filled with fresh juicy red strawberries. It comes with complimentary gift card where you can write some best wishes messages for mother. Check out The Cake Shop online shop for more information. Size of the cake is available at 7 inch ($34.90), 9 inch ($49.90), 10.5 inch ($70.90), 12 inch ($94.90) and 14 inch ($143.90).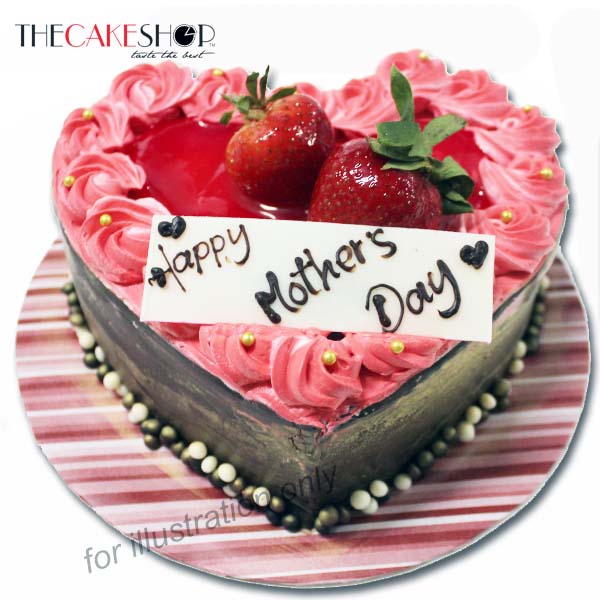 Name: The Cake Shop
Address: 109 North Bridge Road, #05-K6 Funan Digitalife Mall (Next to Foodcourt), Singapore 179097
Tel: 9662 0303 (Sales)
Price: $34.90 for 7" Cake (Other sizes also available,. Order must be 3 days in advance.)
Availability: Now to Mother's Day Promotion Period
How to Order: https://www.thecakeshop.com.sg/
Self Collection: Yes, collect from retail store.
Delivery Fee: $12
Lady Grey Cake for Mum
If your mum loves earl grey tea, she would love the Earl Grey Cake from And All Things Delicious bakery as it is one of their best selling cakes. They use premium Earl Grey tea from Ceylon and blend together with creamy butter and other concoction to create an aromatic tea-infused cake. If your mum prefer something not overly sweet but light and healthy, an aromatic scent Earl Grey cake is the answer. Show your appreciation to your mum with this beautiful Early Grey Cake.
Name: And All Things Delicious
Address: 462 Crawford Lane, #01-61 Singapore 190462.
Tel: 6291 4252
Price: $58 (Size: 6", 2-3 days advance notice is required.)
Availability: Now to 8th May 2016
How to Order: andallthingsdelicious.com
Delivery fee: $30 per location (Free delivery for order above $250)
Mother's Day Cake from Baker's 13
A simple yet elegant cherry blossoms fondant cake decorated with red juicy strawberries. This will please mum who love simplicity and minimalist design. The cake comes in two sizes – 5 inch to serve five to seven person while the 7 inch cake is for 8 to 12 person. It is available for online ordering now; get it early and surprise mum with this elegant cake.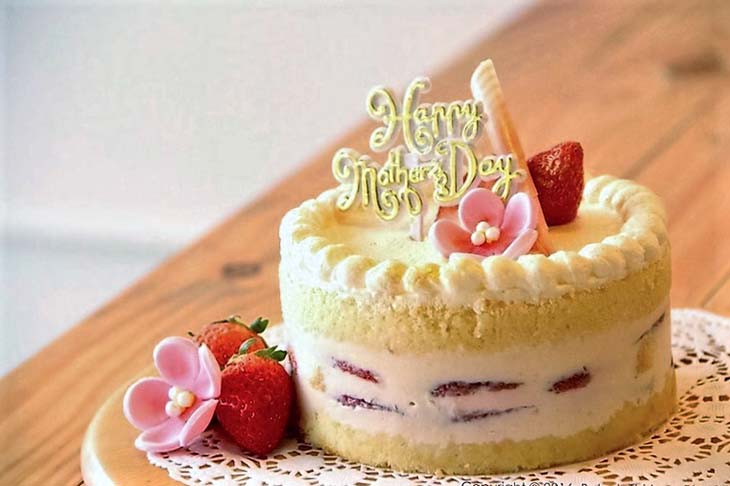 Name: Baker's Thirteen
Address: 116 Changi Road, WIS@Changi #01-07, Singapore 419718.
Tel:  6440 6003
Price: $33 (5" for 4-6 pax)
$43 (7" for 8-12 pax)
Availability: Now to 5th May 2016
How to Order: Order from http://www.bakers13.com.sg
Self Collection: Self collect from 8am to 8pm Mon – Sat.
Delivery Fee: $25
Mother's Day Deco
Mother's day Deco is a delicious and healthy Japanese-styled sponge cake specially created by FLOR Patisserie for Mother's Day. It is made with natural ingredients and beautifully decorated with red juicy strawberries halves, pink, white cream and a little cute sugar mummy figurine. This cute little figurine is directly imported from Japan so it actually make a good little souvenir gift for mum after the cake is cut and eaten. Besides the original flavors, the cake has chocolate flavors as well and comes in 5 sizes (15cm, 18cm, 21cm, 24cm, 27cm, 30cm) for your selection.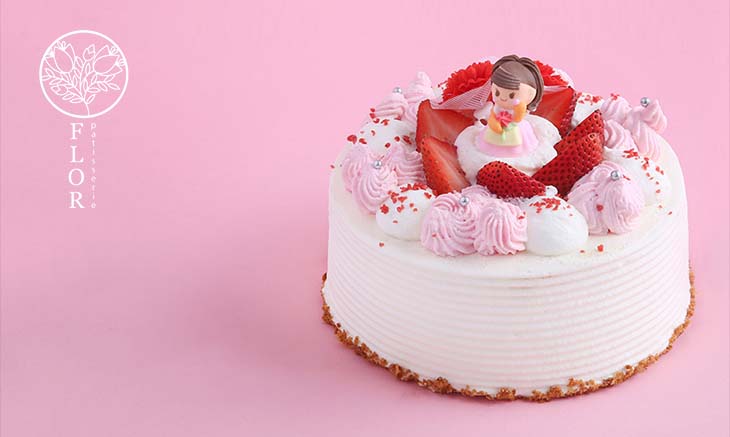 Name: FLOR Patisserie
Tel:  6223 8628 / 6243 0813
Price: $56.10 – $280.50
Availability: Now to 24th April 2016
(15% Early Bird Discount within this period only.)
How to Order: http://cakeflor.com.sg/
Self Collection: Available at Siglap, Duxton, Takashimaya and Funan Outlets. (From Mon to Sat only)
Delivery Fee: $20
Mother's Day Double Happiness
If you are celebrating Mother's Day not only for your own mum but your mother-in-law as well, Cake Inspiration has a good deal for you. You can get two cakes either a Mango Mousse Cake or D24 Durian Mousse Cake for $42.80 only. If both of such cakes are not your mum's cup of tea, they have a new Matcha Green Tea Cake at $36.80. The light, moist Matcha Green Tea cake should be a hit with green tea lovers.
Name: Cake Inspiration
Address: 48 Joo Chiat Place, Singapore 427772.
Tel:  6440 4023 / 8482 8982
Price: $42.80
Availability: Now to 5th May 2016 (Order 3 days in advance)
How to Order: http://cake-inspiration.com/
Delivery Fee: $20 per location from 10am to 4pm. (Additional charges to Sentosa or CBD area)
#####
We hope you have fun searching and getting the best Mother's day for your mum, you may be spoilt for choices with so many options but pick the one your mum like as it is the day to celebrate her hard works and efforts.
Happy Mother's Day to all dearest mothers!