29 Eastwood Place Singapore
---
October 29, 2015 10:58 pm
Great selection of Themed party supplies, balloons, walking pet balloon, personalized banner, cake decoration, packages.
---
Cakes
WineDirections.com sells great Australian and New Zealand wines, but did you know that we also sell fabulous cakes? All cakes are homemade and our specialty is different styles of cheesecakes. Our mos
Dessert
Looking for some healthy snacks for your birthday party? How about some popcorn? They are no ordinary popcorn but we have savoury and candied popcorn that you will be spoilt for choices. It includes t
Occasions
Life is all about telling your story, exploring the world and enjoying in its endless beauty. A Better Florist is a florist that wanted to combine all three, and we were able to make it a part of our
Photographers
At Pan Pixels, our team of professional and experienced Photographers and Videographers are always ready to serve you and your needs. Having covered many corporate events, commercial photography, birt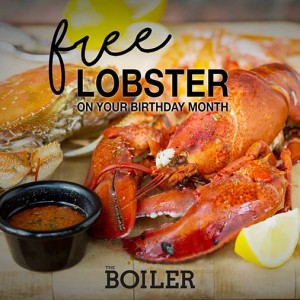 Birthday Treats
The Boilder is giving out lobster birthday treats from 1 Jan to 31 December 2017. They are giving one free Boston Lobster with purchase of their Bombdiggity Bag for the birthday boy/girl. If you ar
Birthday Treats
For seafood lovers, celebrate your birthday at The Naked Finn where you can find great seafood, wine and ambience. Call them for reservation before heading down to their restaurant.
Birthday Treats
If you enjoy roasted meat, Camp Kilo Charcoal Club is a good place to celebrate your family member's or friend's birthday. Their Camp Kilo Meat Menu include the following: Boneless Lecho
Music Band
Every party is incomplete without Music and Dance. Power parties offer the services of corporate event entertainment DJ and lightening design. We are experienced company provides the excellent Wedding
Cakes
Sensational Cakes make all kind of cakes for all ages birthday. They have different themes for different birthday cake, for example as follow: First month birthday theme First year birthday theme 21s
Event Planners
We are Singapore kid's birthday party planner and also a provider for rental of Cotton Candy, Popcorn, Bouncy Castle and Carnival Game Stalls to add fun to your party. Party Fiestar aims to take