Blog
List of Satay Suppliers in Singapore
---
April 4, 2017
Party Food
---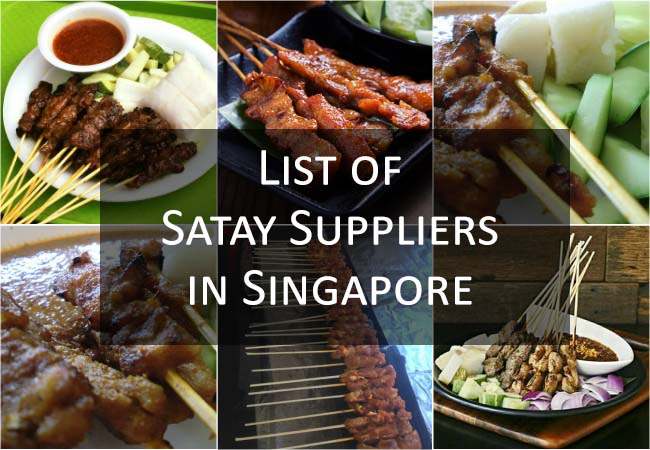 ---
Singaporean love mouth-watering grilled satay with thick peanut sauce so if you are planning for a party or gathering, why not having some satay for your party? If you are lucky to have a party at open space, you can even have a barbecue grill satay party but where to buy the best satay in Singapore? Fret not, these days whether you want the raw satay for grilling or cooked satay ready for eating, you do not need to travel far as the traditional satay has catches up with the technology. You can now order satay online and get the satay deliver right to your doorstep.
So if you decide to have a satay party, check the list of satay suppliers in Singapore below.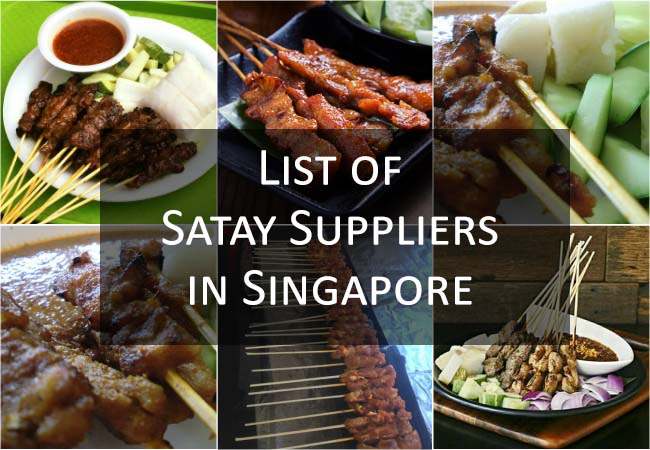 Halal Satay
Below is a list of Halal satay owned by Muslim owners who provide hot and piping satay delivery so you and your party guests can enjoy in the comfort of your home.
Moonshee's Satay
Moonshee's Satay provides not only cooked satay delivery but also on-site satay grilling for corporate events, weddings and birthday party. They are easily recognise for their satay man or satay chef in golden brown batik shirt and matching Songkok. Their satay is a combination of Malay and Javanese style plus the use of Indian ingredients which make their satay unique and popular. Their satay package inclusive of satay, peanut gravy, ketupat, cucumber & onions and delivery. No GST is charged.
Telephone: +65 8241 4292 or SMS 9424 7392
Email: team@moonsheesatay.com
Facebook: https://www.facebook.com/Moonshees-Satay-181666565327685/
Website/Order Online: http://www.moonsheesatay.com 
Delivery Fee: Free
Jamil Saté Classic
If you want a healthier version of satay then Jamil Sate Classic will satisfy you. They pan grilled their satay with olive oil and there is no MSG or preservative used. They even make their Satay in Bento or Platter form so there is less hassle eating it. Their Sate platters consists of chicken, beef, mutton and beef tripe together with ketupat (Malay rice dumpling), onion and cucumber are ideal for family gathering and party. Their signature Sate gravy is popular and you can order extra if you want to.
Address: 54 Genting Lane, Singapore  
Email: jamilsateclassic@gmail.com
Opening Hours: 9am to 5pm
Facebook: https://www.facebook.com/jamilsateclassic/
Website/Order Online: http://jamilsateclassic.oddle.me/
Haron Satay
Using the family secret recipe, Haron Satay provides juicy and tender satay for either pre-ordering or dine in. They have the beef, beef tripe, chicken and mutton satay including all-time favourite grilled chicken wings. They have a store at East Coast Lagoon Food Village so you can call them directly to order and pick up at your appointed timing.
Address: Stall 55, East Coast Lagoon Food Village, 1220 East Coast Parkway, Singapore 468960
Telephone: +65-6441 0495 / 94508754
Email: enquiry@haron-satay.com
Opening Hours:  Tue to Fri 2pm – 11pm (Closed on Monday)
Facebook: https://www.facebook.com/haron.satay55/
Website/Order Online: http://haron-satay.com/
Salam Satay Inc
Besides the usual satay, Salam Satay Inc. also provide well marinated Beef Liver Satay, Duck Satay, Satay Goring, Otah and BBQ Sambal Stingray. Compared to the rest of Halal satay suppliers, they have a good range of BBQ items to choose from for your party gathering.
Address: No. 59 East Coast Lagoon Food Village, Singapore 468960
Telephone: 9422 1874
Email: salamsatayinc@gmail.com
Opening Hours: 3pm -11pm
Facebook: https://www.facebook.com/salamsatayinc/  
Satay Catering (Non Halal)
Those who enjoy Chinese-styled satay and pork satay, you may want to order from Chinese satay suppliers. Unlike the above suppliers, catering suppliers require minimum quantity for 50 sticks or more to qualify for home delivery.
City Satay
City Satay is one of the pioneers who provide island wide satay delivery and also one of the largest satay distributor in Singapore. They are popular for the BBQ Satay packages as well as their cooked satay. You may not want to miss their tender, juicy and flavourful pork belly satay. All the cooked satay packages come with complimentary satay sauce, onions and cucumber.
Address (see retail store as follow):
Blk 58 Marine Terrace #01-63, Singapore 440058.
Blk 21 Ghim Moh Road #01-207 Singapore 270021.
Telephone: +65 6445 5369
Email: order@bbqcity.com.sg
Opening Hours:
Facebook: https://www.facebook.com/citysatay/
Website/Order Online: http://www.citysatay.com
Chun Man Yuan
Chun Man Yuan is a BBQ caterer and they provide both raw satay and cooked satay as well as other BBQ items. Therefore, if you intent to organize a BBQ party, you can order raw satay and other BBQ items from them. However, if you preferred cooked satay, they have it too but the minimum quantity is 50 sticks. Their ketupat come in mini size so you may need to order more. There will be 5% discount for self collection at their Gourmet East Kitchen if you prefer to collect yourself.
Address: Blk 3017 Bedok North Street 5, #06-28 Gourmet East Kitchen Singapore 486121
Telephone: +65 6448 3325
Email: info@cmyfood.com
Opening Hours: Mon-Sat 6am-5.30pm, Sun 6am-3.30pm
Website/Order Online: http://www.cmyfood.com/
Delivery Fee: $15 (free delivery for order above $300)

Lee Wee Brothers
Lee Wee Brothers is well known for their Nasi Lemak lunch box. Like the rest of the caterers, they also provide raw and cooked chicken, beef and mutton satay for your party but they do not serve pork satay. The minimum quantity of cooked satays are 30 sticks while the uncooked satay comes in a package of 50 sticks per pack. You can order extra satay sauce, cucumber and onions if you need more for your guests.
Address: Retail Outlets available at Tampines Mall, NEX, Raffles City, JEM
Telephone: +65 6535 6535
Email: info@leeweebrothers.com
Facebook: https://www.facebook.com/leeweebrothers/
Website/Order Online: https://leeweebrothers.com/
######
Hopefully, this list of satay suppliers help you to find the best satay for your party or gathering. You can add on other food items for your party so that your guests could enjoy more variety and have fun chatting over food.