Blog
Last Minute Christmas Food Delivery in Singapore
---
December 21, 2016
Christmas,Occasions
---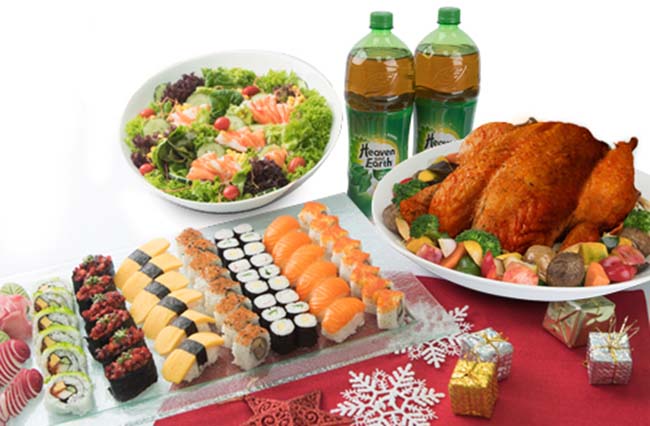 ---
Christmas is just few days away and you have not plan anything for your Christmas day yet decide to have a last-minute Christmas party at home. What do you do? The burning question now is where to get cooked Christmas food delivery at this time? It'll be too late to order a Christmas catering or Christmas Roast Turkey now as most catering require at least 5 to 14 days' advanced notices. However, there is still hope! You can get some help from fast food caterers except it is not the usual Christmas feast.
Check out the list of caterers below for last minute Christmas help but do note that some of them charge extra for delivery fee and is subject to their delivery schedules.
Classic Christmas Bundle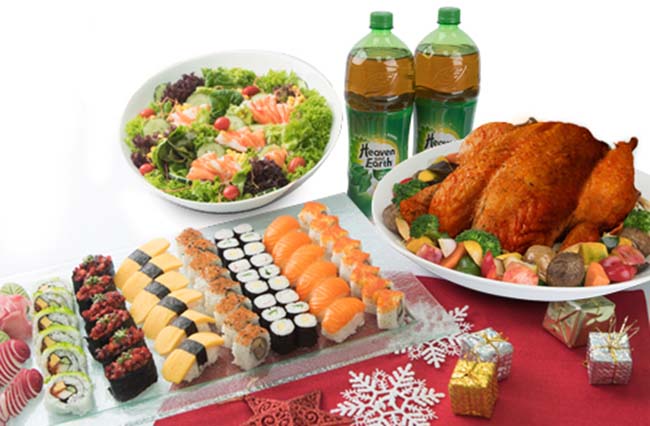 You may not have the usual Christmas Turkey and ham for your Christmas dinner instead you will find healthy Christmas side dishes such as sushi and salad with all-time favourite BBQ chicken in UmiSushi. They are offering two Christmas bundles this year – Classic Christmas Bundle ($118) and Deluxe Christmas Bundle ($158). The Classic Christmas package consists of a sushi platter (58 pcs), honey BBQ chicken, salad and 2 bottles of green tea and it can serve up to 6 to 8 person. The Deluxe Christmas package serve up 8 to 10 person and consist of 66 pieces of sushi platter, yakitori delights, salad, Norwegian Salmon treasures and 2 bottles of green tea.
Name: UmiSushi
Price: $118-$158
Tel: 6262 5545
Email: fnb@hfcsingapore.com
How to Order:  Order online at https://order.umisushi.com.sg/Menu/Specific/Christmas
Delivery Hours: 10.30am – 9.30pm (delivery duration is about 60 to 90 min)
Delivery Fee: $4.50 for online order / $5.50 for Hotline order (with minimum $50 order)
Festive Combo Sets from Sakae Sushi
Another Japanese party platter for your Christmas party. Sakae Sushi offers three Christmas Combo set this year – Festive Combo A ($140), Combo B ($120) and Combo C ($100). Each combo set has at least two options of platter you can choose from. They include Classic Sushi platter, Agemono platter, Chicken Ham platter, Ocean Fresh Sushi platter, Seafood Quinoa platter and Carpaccio platter. For more details, download the Christmas order form here.
Name: Sakae Sushi
Price: $100-$140
Date Available: 24th -25th Dec, 31st Dec 2016 & 1st -2nd Jan 1027
Tel: 6334 9015 (Bugis Outlet), 6459 9258 (Djitsun Mall), 6388 8780 (Hougang One), 6734 8552 (Junction 8)
Email: customerservice@sakaedelivery.com
How to Order:  Order from each outlet
Delivery Hours: 12pm – 10pm
Delivery Fee: $6.20 for delivery within Singapore / $8 delivery fee to Jurong Island & Sentosa with a minimum order of $80
Christmas Party Set from Hong Kong Zhai
How about some Hong Kong Dim Sum for Christmas party? The dim sum set from Hong Kong Zhai has ten different items and good enough for 10 person.  The dim sum set consists of Crystal Prawn Dumpling (10pcs), Steam Siew Mai (15pcs), Chicken Roll Bundle with Yam & Carrot (10pcs), Steam Bean Curd Roll (15pcs), Glutinous Rice with Chinese Chestnut in Lotus Leaf (10pcs), Fried Cheesy Chicken Ball (15pcs), Fried Carrot Cake (10pcs), Fried Yam Puff (10pcs), Egg Tarts (10pcs) and Crispy Banana with Read Bean Paste Wafer (10pcs). They have other dim sum party set too, check out their website for more details.
Name: Hong Kong Zhai
Price: $128 (excluding GST)
Date Available: Now
Tel: 6748 4893
How to Order:  Order online at http://hongkongzhai.com/ 
Facebook: https://www.facebook.com/hongkongzhaidimsum/
Delivery Fee: $30 during festive period
Fast Food Christmas Meal Packages
If you do not like any of the Japanese or Chinese food as they lack the Christmas jingly mood and flavours, the next best option is to turn to our good old fast food delivery for rescue. Fortunately, most of the fast food restaurants or caterers have special Christmas promotion meal and some are specially cooked based on local flavours. Check out some of them as below.
KFC Red Hot Chicken
The weather for this year's Christmas is hot and KFC has the Red Hot Chicken to add in more heat for its Christmas menu promotion. If you are organizing a small family party, consider the Family Feast package! It is enough to serve up to 4 to 6 person as it consists of 8 pieces of Chicken, 4 pieces of Crispy Tenders, 9 pieces of Nugget, 2 Potato Winders and 2 Medium Whipped Potato. Every two pieces of Red Hot Chicken is given one tub of flaming hot sauce for your hot flaming experience. Tis' season will be a hot hot Christmas!
Name: KFC Delivery
Price: $39.90
Date available: Now
Tel: 6222 6111
How to Order:  Order online at https://www.kfcdelivery.com.sg/menu
Delivery Hours: 11am to 10.45pm
Delivery Fee: $4 per trip (with minimum order of $12)
Roasted Ho Ho Honey Chicken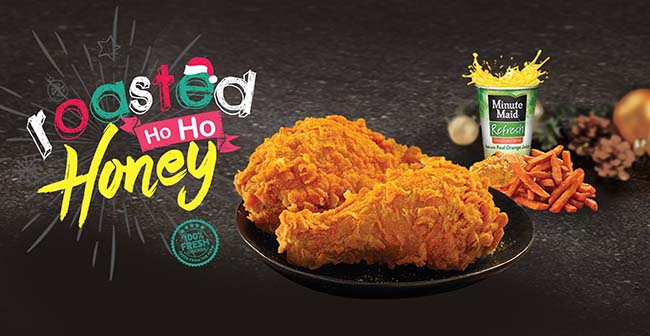 If you prefer the American-style fried chicken, order from Texas Chicken. They have the roasted Ho Ho Honey Chicken meal to get you into the Yuletide spirit. It comes with their new invention – Sweet Potato Fries which give you some healthy fibre while you are enjoying your meal. You can also order their party set meals for more guests but you need to order 2 hours in advance.
Name: Texas Chicken
Price: $48-$148
How to Order:  Order online at http://www.texaschicken.com.sg/promotions.html
Delivery Hours: 10.30am – 8.30pm
Delivery Fee: $4 per trip
Christmas Feast
To fire up your taste bud, Popeyes offers spicy hot Christmas Feast for your gastronomical treat. Its Christmas Feast ($39.80) consists of 4 pieces of delicious fiery jolly chicken, 6 pieces chicken tenders, 2 ranch dipping sauce, 1 Cajun burger, 6 pieces crispy mushroom, 1 large mashed potatoes with Cajun gravy, 1 large coleslaw and 4 pieces of honey buffer biscuits.
Name: Popeyes
Price: $39.80
How to Order:  Order online at http://www.popeyes.com.sg/
Delivery Hours: 10am – 10pm
Delivery Fee: $4 per trip (with minimum order of $12)
Big Santa Box & Cheesy Bites
Pizza Hut has a good range of Christmas pizza hot deals to celebrate this year's Christmas. The first one is their tasty Christmas edition Cheesy Bites which now top with festive ingredients such as savoury honey-baked turkey ham, turkey bacon, capsicums, juicy pineapples and a medley of mushrooms surrounded by 2-in-1 bites. If you are planning a Christmas gathering, you can try their Christmas party platter such as Big Santa Box and Merry Feast which can be shared and enjoyed together. Besides the Cheesy Bites, the party platter consists of a pasta, crispy chicken tenders, honey roasted roasted chicken wings and garlic bread. Check out their website for more details.
Name: Pizza Hut
Price: $33.90-$59.90
Tel: 62-35-35-35
How to Order:  Order online at https://www.phdelivery.com.sg/
Delivery Hour: 10.30am to 11pm
Delivery Fee: $4 for online order
#####
The above list of party food may not offer you the best Christmas gastronomical treat but they are good enough to have some fuss-free, quick and easy cooked Christmas food to be enjoyed in the comfort of your home with your family and friends.
To avoid disappointment, it's better to order early as their delivery services might be fully scheduled during the festive period.
So let's Eat, Drink and be Merry!
Have a Merry Christmas and Happy holidays!